No charges for Chicago cop who shot Quintonio LeGrier, Bettie Jones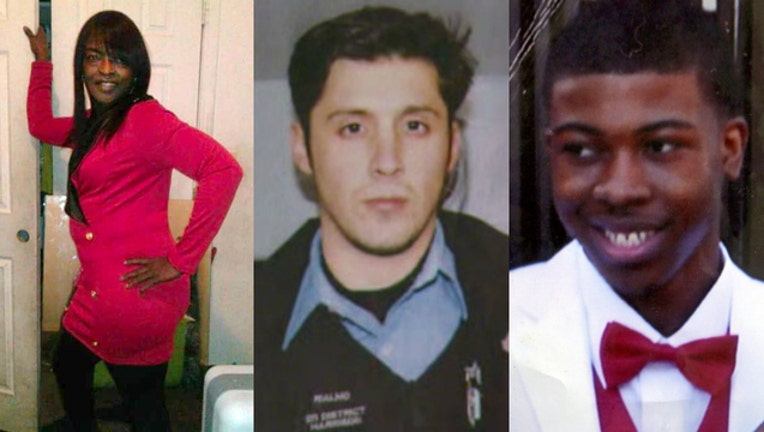 article
AP / SUN-TIMES - A Chicago police officer who fatally shot a college student and his neighbor while responding to a domestic disturbance in 2015 won't be charged, prosecutors announced Friday.
The Cook County State's Attorney's Office said in a statement there is "insufficient evidence" to prove Officer Robert Rialmo didn't act in self-defense when he shot 19-year-old Quintonio LeGrier, who Rialmo said charged at him with a baseball bat, and 55-year-old Bettie Jones, whose shooting the department has called an accident.
"The Office reviewed the evidence collected during the investigation to determine whether there was a basis for filing criminal charges. After thorough review, the Office of the Cook County State's Attorney has concluded that there is insufficient evidence to prove beyond a reasonable doubt that Officer Rialmo did not act in self-defense in shooting LeGrier and Jones."
Latisha Jones, one of Bettie Jones' children, said the family was disappointed by the prosecutors' decision.
"We will not stop fighting for justice," said Jones, whose family has a pending lawsuit against the city and Rialmo.
LeGrier's family also expressed dismay over the lack of charges against Rialmo.
"As far as what happened today, I just don't understand. Quintonio did the right thing. He called for help," said Janet Cooksey, LeGrier's mother.
In a statement, Rialmo said he was relieved he was cleared by the state's attorney's office, adding he has always known he didn't do anything wrong.
"I can't ever do anything to bring Ms. Jones or Quintonio LeGrier back, but it was not my fault," he said, adding he was pushed into firing his weapon by LeGrier. "Being right does not make it any less of a tragedy that two people are dead and I was the cause of their death."
The December 2015 shooting of LeGrier and Jones, who were both black, was investigated by the city agency that oversees police misconduct, the FBI and the Illinois State Police. They were killed at a two-story home on Chicago's West Side about a month after a video was released showing white police officer Jason Van Dyke shooting black 17-year-old Laquan McDonald 16 times in 2014. Van Dyke has pleaded not guilty to a murder charge in McDonald's death.
In the LeGrier and Jones shooting, Rialmo, who is white, and his partner were responding to at least one 911 call about a domestic disturbance involving LeGrier and his father.
According to Rialmo's initial account, Jones, who lived in the ground-floor apartment, answered the door and pointed the officers to an upstairs apartment. As she turned to walk back to her unit, LeGrier allegedly emerged from the doorway brandishing a bat over his head.
Rialmo said he drew his weapon while backing down the stairs as he ordered LeGrier to drop the bat. He said he was in fear of his life when he fired at least three times, hitting LeGrier in the chest.
Rialmo said when he checked on LeGrier, he discovered Jones lying on her back.
"The purpose of the review was solely to examine whether the conduct of Officer Rialmo was unlawful," prosecutors said in their statement. "The state's attorney's review specifically does not address issues related to tactics, whether Officer Rialmo followed police procedures, whether he should be subject to discipline, his employment status, or the merits of any civil litigation."
Chicago's Independent Police Review Authority, which investigates police shootings, has said LeGrier called 911 three times asking them to send police before he was fatally shot by Rialmo.
"I need the police," LeGrier said in a recording of one call. The father of the Northern Illinois University student also made a 911 call.