North Korea mocks Trump as 'rabid man,' threatens 'volley of nuclear fire'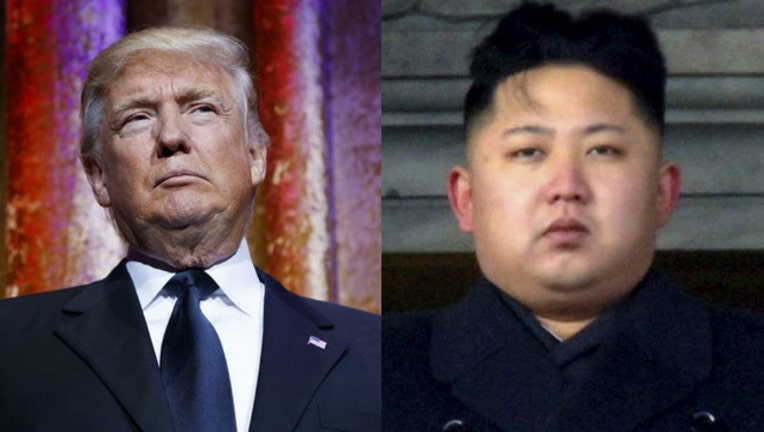 article
FOX NEWS - North Korea on Thursday mocked President Trump as the "rabid man in the White House" and threatened to attack the United States with an "immense volley of nuclear fire," the menacing messages coming just days after Pyongyang warned other countries to avoid an alliance with America.
The rogue regime said the U.S. should expect an "unimaginable strike at an unimaginable time," according to a statement released by the state-run Korean Central News Agency. The statement was oddly juxtaposed with photos of Kim Jong Un and his mysterious wife, Ri Jol Ju, grinning at workers in a shoe factory, news.com.au reported.
"The U.S. is running amok by introducing under our nose the targets we have set as primary ones. The U.S. should expect that it would face unimaginable strike at an unimaginable time," the statement said. "From the very day of the birth of the DPRK, its people have experienced sanctions and pressure, a war without gunfire. The US is different from the DPRK. Historically, it is the chieftain persistently threatening the DPRK."
The North Korean statement added: "The rabid man in the White House…will first face the immense volley of nuclear fire if he hopes to settle [this] confrontation with nukes."
The photos released by KCNA showed Kim with other unidentified Korean officials at Ryuwon Footwear Factory. In one picture the North Korean despot is holding a pink children's sneaker. His wife isn't photographed often, even dropping out of the public eye for several consecutive months earlier this year -- until she reappeared in July to celebrate the country's successful intercontinental ballistic missile test. Several reports indicated she was pregnant with the leader's third child, according to South Korea's Yonhap News Agency.
The recent threat comes as Trump, who often calls Kim "little rocket man," is set to visit South Korea during his Asia trip next month. This would be the president's first trip to the peninsula. It's unclear if he'll make a trip to the demilitarized zone separating North and South Korea, however, he's reportedly considering it.
On Monday, the Hermit Kingdom told countries to avoid aligning with the U.S. if they wanted to evade a nuclear attack on their own nations.
"The entire U.S. mainland is within our firing range," a North Korean ambassador said in prepared remarks. "And if the U.S. dares to invade our sacred territory even an inch it will not escape our severe punishment in any part of the globe."