Officials search for cause of deadly Illinois gas explosion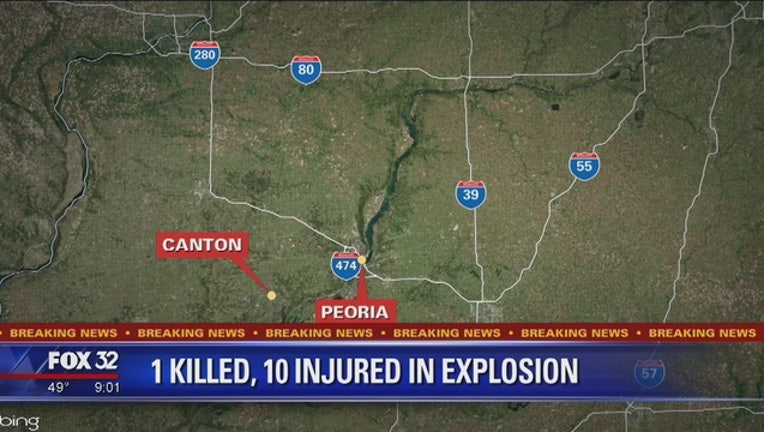 article
CANTON, Ill. (AP) — Authorities on Thursday were investigating the cause of a gas explosion that rocked downtown homes and businesses in a central Illinois community, shattering glass and cracking interior walls in nearby buildings and killing one person and injuring several others.
The blast Wednesday evening in Canton, which is 150 miles southwest of Chicago, happened while utility workers were trying to fix a gas leak that a contractor apparently caused while installing a fiber-optic wire, officials said.
"The impact of this blast was tremendous and that caused some serious, serious damage," the city's police chief, Rick Nichols, said at a news conference Thursday. More than 50 buildings were damaged, including three that were condemned.
Ameren Illinois said its crew had turned off the gas and was beginning to make repairs when the explosion happened. Nichols said investigators are still trying to determine what ignited the blast.
The explosion killed one of the Ameren workers, whom Fulton County Coroner Steve Hines identified as 38-year-old Arturo Silva Jr., of Mapleton. Three other Ameren workers and several other people were injured. Officials said the other injuries were not life-threatening.
Jill Dillefeld, a psychiatric nurse from Canton, told the (Peoria) Journal Star that she was eating at a bar about a block from the square when she heard "the biggest kaboom I have ever heard in my life."
"Everyone jumped," she said. "The door where I was sitting blew open."
Among buildings damaged by the blast was a historic century Opera House that now houses offices; it was among three buildings condemned because they are beyond repair, Nichols said. The police chief said officials hope to shrink the closed area to one block around the blast, but that it can only be done once it has been deemed safe.
Mayor Jeff Fritz praised first responders for their work.
"We will get through this and will be a stronger Canton," Fritz said.