Owners of bridal shop destroyed by fire scramble to fill orders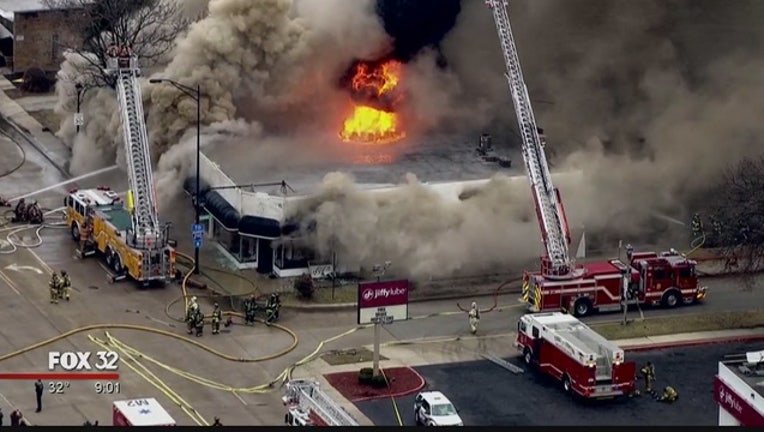 article
SUN-TIMES MEDIA WIRE - A fire that burned for more than 12 hours destroyed a bridal shop in west suburban Elmhurst, and now the owners are scrambling to assure that all customer orders will be filled.
Elmhurst firefighters were called about 1:37 p.m. Thursday to a fire at VIP Occasions at 351 N. York St., according to a statement from the City of Elmhurst.
Flames were shooting out of the front and top of the building, and smoke billowed from the structure as firefighters battled the blaze, the statement said.
No injuries were reported as of late Thursday, but firefighters continued "containing and extinguishing the fire with visible flames in the roof area" into the evening.
Firefighters remained on the scene through the night soaking the structure and extinguishing hot spot fires, the village said.
The cause of the fire is unknown. As of Friday morning, the Elmhurst Fire and Police departments, along with the DuPage County Arson Task Force, were on the scene preparing to search the remains of the building to try to determine the cause and origin of the fire.
The city confirmed there were no reports of injuries and traffic has reopened on York Road.
On the bridal shop's Facebook page, the owners, sisters Nicole Samardzija and Natalie Krstev, wrote: "Despite the devastating loss of our 'baby,' my sister and I are working tirelessly on behalf of our loyal customers.
"We are overwhelmed by the charred ruins of countless memories, despite the relentless & heroic efforts by teams of local firefighters. Miraculously no one was injured and for that we are grateful."
They plan to set up a temporary shop at the former York Medical Center, located two doors down at 363 N. York Rd., they said.
They planned to spend Friday contacting designers "to ensure no special orders will be missed. Additionally any damaged/destroyed merchandise will be given top priority."
Inquiries about purchases can be left at (630) 833-4696 or info@vipoccasions.com, and the owners said they will try to return all messages by the end of the day.
"We're also compiling a list of the most generous, gracious bridal salon colleagues offering VIP, and all our customers, assistance," the Facebook post said.
Ronia Ghusein, who owns Eva's Bridal in Oak Lawn, said her boutique is offering free gowns to brides who lost their dress in the fire if they can provide proof that they brought a dress at VIP Occasions and have a wedding coming up.
Eva's Bridal was destroyed in a fire seven years ago, and received emergency dresses from other bridal shops looking to help in the aftermath, Ghusein said.
"When I heard about VIP Occasions, it was like deju vu," Ghusein said. "It gave me goose bumps because it's not only heartbreaking on a personal level, but from a business perspective I've been through the same thing."
A national relief fund of dresses was founded after the fire at Ghusein's store that gave bride's replacement dresses if they were destroyed in the fire, according to David Gaffke, owner of Complete Bridal in East Dundee.
Gaffke's shop is now helping provide emergency dresses to brides scrambling to find replacements after the fire at VIP Occasions, he said.
"It feels incredible to help out again," Gaffke said. "It's great to be able to take care these girls' needs who have immediate wedding dates in the wake of a disaster."
Deanna Dean, owner of Volles Bridal & Boutique in Lake Zurich, is also offering free emergency dresses to brides affected by the fire.
Dean said one of the shop's warehouses caught fire in July 1994, destroying hundreds of bridal dresses at the height of bridal season. Back then, other bridal shops pitched in to help replace them, she said.
"I know what it's like as an owner telling the bride that her dress was in the fire and we're doing everything we can to get a new dress," Dean said. "But the bottom line is we want them to walk down the isle in a dress that they love, so we're happy to help VIP Occasions."