Parents buying signs urging others not to touch their children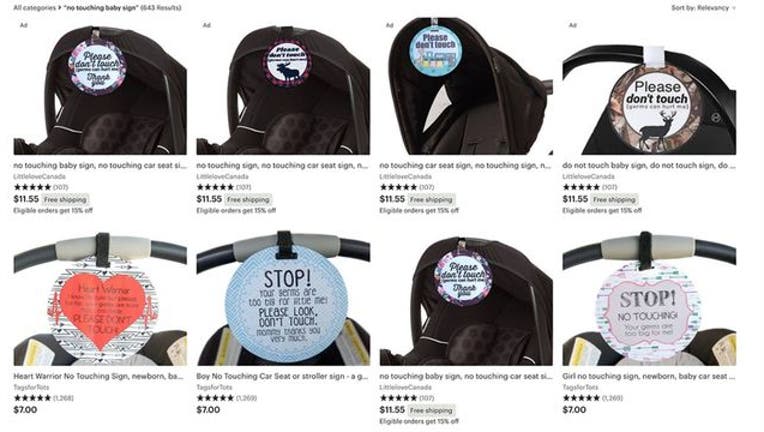 article
FOX NEWS - Flu season is coming, and some parents are taking extreme measures to protect their kids, including attaching signs to their car seats telling others to keep their grubby paws to themselves.
The latest parenting trend is making a spark on websites such as Etsy, BuzzFeed News reported. Some signs say: "Please don't touch" and "Please look, don't touch!" Other signs are a bit more direct with the message, "Stop! No touching! You germs are too BIG for me!"
The placards come in a variety of colors and different messages depending on how forward the parent wants the message to be. Other sites, like Amazon, are also selling the signs. The signs cost around $7.00 to $11.55 on Etsy and Amazon. KARE 11 reported the signs are getting attention on parenting websites and forums.
While a person can get the flu all year around in the U.S., the virus is most common in the fall and winter, the Centers for Disease Control and Prevention [CDC] stated. The American Academy of Pediatrics [AAP] recommends a child should be given the flu shot when they're six months of age or older. During the 2017-2018 flu season, 172 children died, the CDC said.
The AAP also recommends that a parent use canopies or covers on their child's stroller which can help keep "germ-covered hands from reaching in and touching your baby."