Protesters call for firing of Salt Lake City detective seen in video arresting nurse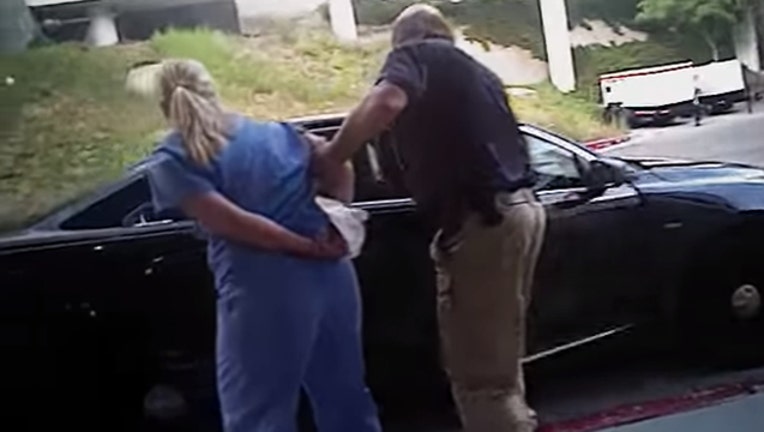 article
FOX NEWS - Nearly 100 protesters rallied outside the Salt Lake City Police Department Saturday calling for the firing of a detective who was seen on video arresting a nurse when she refused to allow officers to draw a patient's blood.
The protesters demanded the firing of Detective Jeff Payne who was shown on video arresting University Hospital nurse Alex Wubbels on July 26.
Protesters chanted, "Acts of police brutality, not in our community," and called for justice for Wubbels as they held signs declaring, "Hands off our nurses" and "Fire Detective Payne."
The arrest video, which was released Thursday, shows Wubbels explaining to Payne why she could not draw blood from the patient. She appears to tell him that blood can only be drawn if the patient is conscious and gives consent or is under arrest. Otherwise, she tells Payne she needs to see a warrant, citing a 2016 U.S. Supreme Court ruling.
After an argument between Payne and Wubbels, Payne appears to be seen placing Wubbels under arrest and physically removing her as she screams.
The video shows Wubbels yelling, "Help! Stop! I did nothing wrong!" while being handcuffed.
Payne was attempting to get a blood sample from William Gray, a reserve officer in Rigby, Idaho, who was burned after being involved in a head-on crash with a pickup truck driver who was fleeing police, the Washington Post reported. The driver died in the incident.
Payne wrote in a police report that he grabbed Wubbels and took her outside to avoid causing a "scene" in the emergency room. He said his boss told him to arrest Wubbels if she kept interfering.