Rauner also accusing attorney general of 'creating crisis'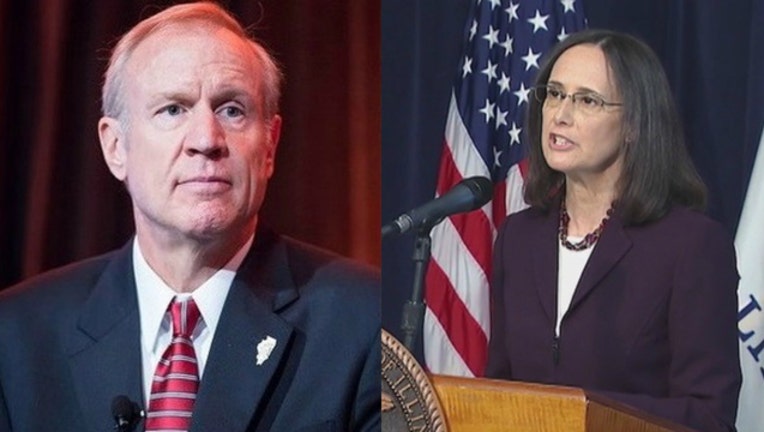 article
SPRINGFIELD, Ill. (AP) - Gov. Bruce Rauner is trying to weave a wider web of blame for the state budget mess, extending his criticism of House Speaker Michael Madigan and other Democratic lawmakers to Illinois Attorney General Lisa Madigan, the speaker's daughter.
But Lisa Madigan dismisses the Republican's claims that she too is trying to "create a crisis" that would force a tax increase.
Rauner noted last week that Madigan, a Democrat, is pushing the courts to declare that state workers should not continue to get paid without a budget appropriation, something that has eluded Springfield for more than a year.
Madigan, who is serving her fourth term as attorney general, declined to comment directly on Rauner's remarks. And it's unclear if she will continue to pursue the worker pay issue, saying in a statement that "the best way to ensure state employees are paid for the rest of this fiscal year and all of the next fiscal year is for the governor to work with the Legislature to pass an appropriation to cover state employee pay."
Here are some questions and answers about what's behind the issue:
__
Q: WHAT DID RAUNER SAY?
A: During a news conference last week, Rauner repeated claims that Madigan, the speaker, and Cullerton, both Chicago Democrats, are "clearly working to create a crisis" by refusing to compromise on a budget for the year than ends June 30 or the next one. He believes they're holding out for an income-tax increase without pro-business changes Rauner wants, such as a property tax freeze, restrictions on workers' compensation and liability lawsuits.
He also alleges Democrats believe a crisis would lead to a "bailout" for Chicago's financially beleaguered schools.
But then Rauner went a step further, saying Lisa Madigan "has tried to create a crisis, she has not succeeded yet, but she's working in the courts to try to stop our hard-working state employees from getting paid."
__
Q: THERE'S NO CRISIS NOW?
A: Few could argue that the state is not already in a crisis, spending far more than it receives in tax revenue and watching a backlog of bills grow to more than $7 billion as social service providers and others struggle.
But in this case, when Rauner speaks of "crisis," he undoubtedly means the additional pressure to reach a budget compromise that would increase exponentially if state workers lose their paychecks and go home to wonder how to pay the mortgage while state government grinds to a halt.
__
Q: WHAT IS LISA MADIGAN'S STANCE?
A: Last July, Lisa Madigan, a Democrat, asked a Cook County court to decide what bills could be paid without a budget that should have been enacted that month. A judge ruled state workers couldn't be paid, but an appellate court reversed that decision.
In April, the judge put those proceedings on hold because of a separate ruling in St. Clair County. In that case, filed in the Illinois suburbs of St. Louis by the largest union representing state workers, the state council of the American Federation of State, County and Municipal Employees, a judge upheld payment to state workers without an appropriation by the Legislature. A different appellate court upheld that decision.
Madigan asked the Supreme Court to consolidate the two cases and render an opinion, but it declined.
__
A: WHAT'S CHANGED?
Q: A serendipitous ruling by the Illinois Supreme Court in March could have provided another opportunity for appeal by the attorney general over paychecks.
In a case dating to a separate budget crisis under a different governor, the court found that former Gov. Pat Quinn, a Democrat, was correct in 2011 when he withheld AFSCME pay increases because the Legislature had not appropriated money for it. With its 6-1 decision, the court shelved AFSCME's claim that requiring an appropriation before honoring pay promises would emasculate binding conclusions reached in contract negotiations.
The decree seemed tailor-made for Madigan's argument: You can't spend state tax dollars without authorization by state lawmakers.
But Madigan so far has not sought to exploit the high court's AFSCME ruling to pursue the halting of payments. Her office has been tight-lipped about her options and whether she would take further action in light of the high court's decision.
___
Contact Political Writer John O'Connor at https://twitter.com/apoconnor . His work can be found at http://bigstory.ap.org/content/john-oconnor .