Rauner blames Mayor Emanuel for 'failure' on Chicago violence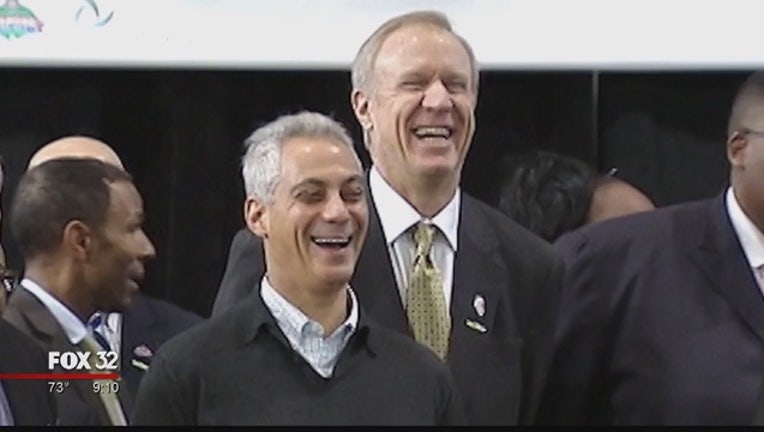 article
SPRINGFIELD, Ill. (AP) - Illinois Gov. Bruce Rauner blamed Chicago Mayor Rahm Emanuel on Thursday for the city's gun violence, saying the mayor has "failed horribly" on public safety after gunfire last weekend injured more than 70 people and killed at least 11 .
The Republican governor said Chicago police lack sufficient officers and cutting-edge equipment. A spokesman for Emanuel, a Democrat, dismissed the claims and pointed at Rauner's rejection of legislation to license firearms dealers.
Speaking at a state Capitol news conference, Rauner for the second straight day said he had no plans to send the National Guard to patrol Chicago's South and West Sides, where many of last weekend's shootings occurred. Chicago police have added 400 officers to those areas, with plans to dispatch 200 more by this weekend.
"The leaders of Chicago have fundamentally failed, failed horribly. Our first duty in public service is to keep people safe," Rauner said, adding that he's "very disappointed in the mayor and his handling of this whole dynamic. I do not believe the Chicago police have received the proper support that they need to do their jobs effectively."
Rauner also said police "they need to be more assisted in their staffing." He did not elaborate.
Police officials have been vocal about expanding their force by more than 1,000 in the past 18 months and they've publicized major investments in computer- and camera-driven "predictive technology" they say has reduced the number of shootings.
Emanuel spokesman Adam Collins said it is Rauner who stood in the way of the "policing tool that would make a huge difference" - the state licensing of firearms dealers to better spot and monitor sales of guns to authorized buyers who transfer them to criminals.
Collins said Police Superintendent Eddie Johnson "made numerous personal pleas to the governor" to approve the plan "to keep illegal guns out of the wrong hands."
Rauner vetoed the measure in March, rejecting it as too burdensome on small businesses. He has promised to veto a revised version the General Assembly approved in May but have yet to send to the governor.
Rauner said Illinois State Police, who have beefed up surveillance of expressways in and around the city, also began patrolling Chicago neighborhoods last year in an agreement with the city.
Long term, Rauner said the answer is more economic opportunity. Earlier Thursday in a radio interview in southern Illinois, Rauner said Emanuel had failed on that issue, too, adding that Emanuel "corrupt" and declaring that he has "got to go." He did not say why he believes the mayor is corrupt.
Collins said it was part of a Rauner election strategy "centered solely on denigrating Chicago, in large part because he doesn't have any accomplishments worth mentioning."