Rupert the wayward wallaby found safe after escaping Monee yard
MONEE, Ill. - After days of anxious searching and sleepless nights, the Hange family's beloved wallaby, Rupert, has been found safe and sound.
The wayward wallaby's owners confirmed Saturday that Rupert had been found just a few blocks from his south suburban home in a neighbor's garage and was "completely fine," Rupert's owner, Josie Hange said Saturday.
"Oh my god, I was so relieved. He had no injuries, no bugs, no nothing," Hange said.
Although wallabies are skittish by nature and fast runners, Hange said she managed to catch him with her own hands around 5 p.m. on Saturday.
"It's crazy, you turn your head for a second and boom. It can happen with a dog, it can happen with a cat," she said.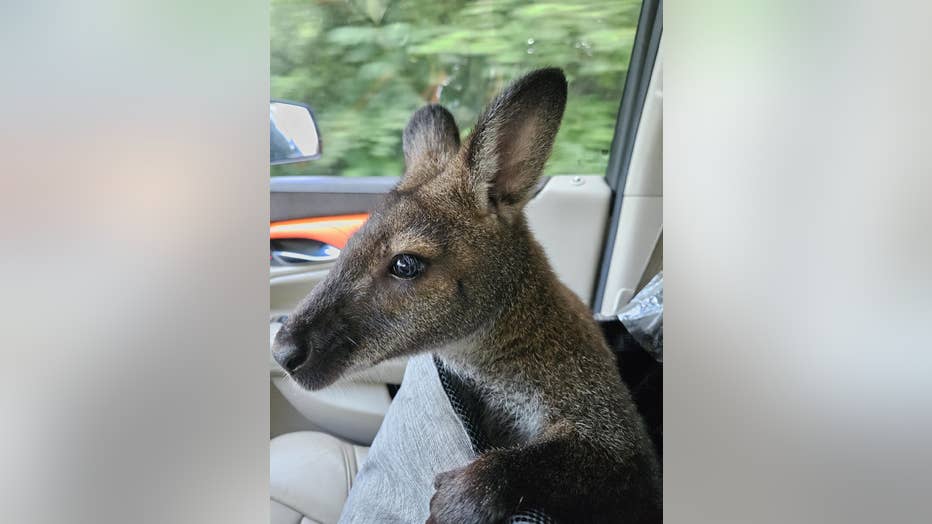 The Hange family had been on a rollercoaster of emotions since Rupert's escape from a Monee yard on Tuesday. Hange said she sprung into action as soon as she discovered the 2-foot-tall, 45-pound wallaby was missing.
"He just wasn't here. So I went upstairs screaming and hollering like a mad person, and we've been searching for him ever since," said Hange.
The family had relied on the kindness of strangers and the power of community to bring Rupert back home. They had asked everyone to keep an eye out and reach out if they spotted the wallaby.
"He's about two feet tall, give or take, his tail is almost as long as his body. He has a wider end, he has small arms, a smaller face. He is not a kangaroo," described Hange, hoping that these distinct features would help people recognize him.
The Hanges, along with support of a rescue team led by Genny Kowalski from P.A.W.S. Tinley Park, embarked on an extensive search operation. Feeding stations were set up, cameras were placed strategically, and they followed tips from citizens who had spotted Rupert.
Kowalski knew that Rupert's toughest challenge during his escape would be navigating the unfamiliar territory without his owners by his side.
"Usually being with an owner. Now he's on his own, he's basically like a toddler on his own out there," she said.
"He goes everywhere with us. He's been with us since he was straight out of mom's pouch. He's been our baby for the past two years," said Hange.
Throughout the ordeal, the rescue team had urged people not to try to capture Rupert on their own. Instead, they had requested that anyone who spotted him should try to get a photo or video and promptly call the rescue team.
Wallabies, native to Australia and Papua New Guinea, can be legally owned in Illinois, and Hange, who has a license for Rupert, acquired him as a baby, and he now behaves like any other house pet, she said.
The Sun-Times Media Wire contributed to this report.