Teen dies 3 days after Eisenhower wreck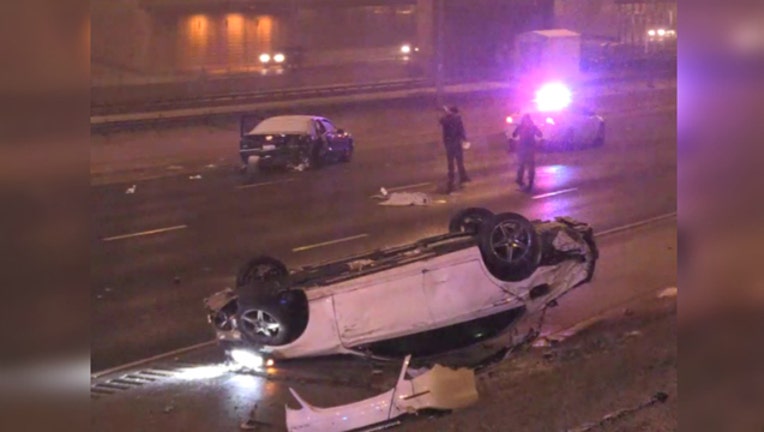 article
(SUN TIMES MEDIA WIRE) - A 17-year-old boy died Wednesday of injuries he suffered in a weekend crash on the Eisenhower Expressway that also killed a man and left five people hospitalized.
Lydell Smith was pronounced dead at noon Wednesday at Stroger Hospital, according to the Cook County medical examiner's office. Mario C. Shields, 18, was pronounced dead at the scene of the Sunday night crash on inbound Interstate 290 near Damen.
The Austin neighborhood residents were in a white Mercedes suspected in an attempted armed robbery and aggravated assault on the West Side, according to Chicago Police. CPD officers alerted state troopers that they lost the vehicle about 9:30 p.m. as it sped onto I-290 from Homan Avenue, authorities said.
Before troopers were able to catch up with the Mercedes on the expressway, it rear-ended another car about 10 minutes later near Damen, according to Illinois State Police. The Mercedes then went up the embankment and rolled over.
Smith and Shields were ejected from the Mercedes, along with two other men who were riding with them, state police said. Shields, who was at the wheel, died at the scene, authorities said. Smith was taken to Stroger Hospital, where he died Wednesday.
The other passengers, ages 20 and 21, were taken to Stroger and Mount Sinai hospitals in serious condition. Three adults in the car that was rear-ended were taken to Rush University Medical Center with injuries that were considered minor, state police said.
Inbound lanes of the expressway were shut down for more than four hours as crews cleared the crash scene.