Texas fire chief saves fallen American flag amid deadly tornado's wrath: 'It's moments like this'
PERRYTON, Texas - It was a sign of renewal, hope and unity after a deadly tornado left a life-long scar on one Texas Panhandle town.
The powerful storm that struck Perryton about 5 p.m. Thursday was on the ground for approximately 8 miles before lifting into the dark and ominous skies. After it passed, the smell of natural gas surrounded residents as they used their hands to dig through the debris. Some were looking for loved ones, while others were salvaging what they could from the destruction.
Army veteran Andrew Skipper was among those busy helping the ravaged community. The neighboring Booker fire chief took a brief moment to retrieve an American flag from the splintered debris of homes.
His department shared the 30-second gesture on their Facebook page as family members used the post to look for missing loved ones. 
"When our country goes those moments like this, it's moments like this one that Americans need to see," FOX Weather meteorologist Britta Merwin said after seeing the video for the first time. "The pride this firefighter has for his country, pulling up this American flag, it wells-up the emotions inside me for sure."
Booker is about 15 miles away from Perryton, and Skipper's department was one of the first on the scene.
DEADLY TORNADO STRIKES PERRYTON, TEXAS, KILLING AT LEAST 3 AND INJURING DOZENS AMID TRAIL OF DESTRUCTION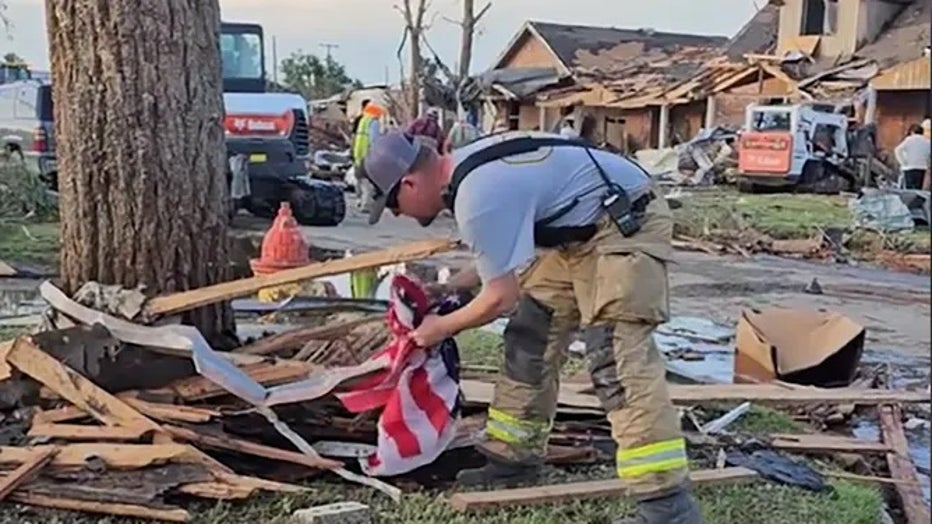 Army veteran and Booker, Texas, Fire Chief Andrew Skipper stopped to retrieve an American flag from the debris after the deadly tornado outbreak in Perryton on Thursday, June 15, 2023. (Booker Fire Department / Facebook)
The tornado took a direct shot to the town, leaving 3 people dead and about 56 people injured, Ochiltree County Sheriff Terry Bouchard told the Amarillo Globe-News. Two people are still missing as of Thursday evening.
The destruction inflicted on the town of about 8,200 could be seen up and down Main Street. Vehicles and multiple buildings were heavily damaged, including the town's fire department.
"Keep praying for Perryton," the department said in a Facebook post filled with photos showing the destruction. "We were hit hard!"
Perryton, Texas, is picking up the pieces after a tornado devastated their city on Thursday, June 15, 2023. (Perryton Fire EMS)
Witnesses in the area reported storm victims being pulled from the rubble, and storm chasers were requesting ambulances respond to the town to help the injured.
"It looks like a bomb had gone off," said Perryton resident Sabrina Devers describing her now-unrecognizable town. "The residential areas, the mobile homes, are just gone. There's severe devastation."
The National Weather Service in Amarillo said teams plan to survey the damage Friday and determine the strength of the tornado as well as its rating on the Enhanced Fujita Scale.