Trump throws feud back at Pelosi after 'racist' accusation: 'Democrats always play the race card'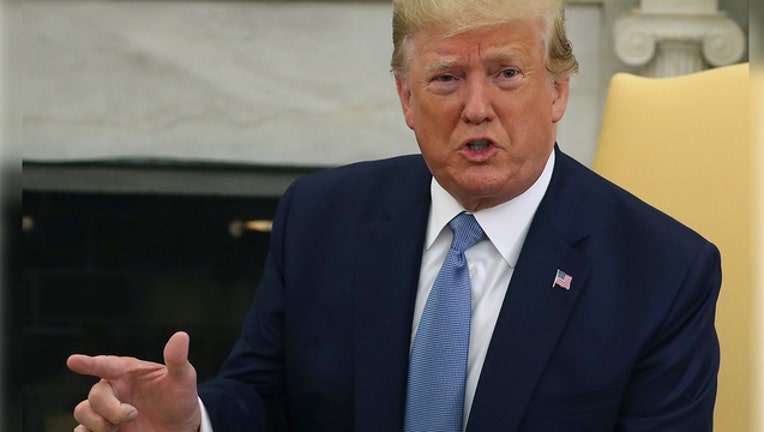 article
FOX NEWS - President Trump is defending himself against accusations of racism, claiming he's just the latest target of a party that plays the "race card," as he leveled criticism against Rep. Elijah Cummings, D-Md.
Trump called out Cummings on Saturday, slamming him as a "brutal bully" for how he spoke to border patrol officials, and said that the congressman's Baltimore district is in "FAR WORSE" shape than the situation at the southern border. That rebuke resulted in claims of racism from Democrats, including House Speaker Nancy Pelosi, but Trump pointed out that he's hardly the first to get accused of racism, with the speaker herself recently in the middle of a similar controversy.
"Someone please explain to Nancy Pelosi, who was recently called racist by those in her own party, that there is nothing wrong with bringing out the very obvious fact that Congressman Elijah Cummings has done a very poor job for his district and the City of Baltimore. Just take a look, the facts speak far louder than words!" Trump tweeted Sunday morning. "The Democrats always play the Race Card, when in fact they have done so little for our Nation's great African American people," he added.
The president appeared to be referring to how House Speaker Pelosi was the target of a thinly veiled accusation of racism when Rep. Alexandria Ocasio-Cortez, D-N.Y., accused her of "singling out" women of color. That was after Pelosi dismissed Ocasio-Cortez and her "Squad" -- that includes Reps. Ilhan Omar, Rashida Tlaib, and Ayanna Pressley -- as being more influential on social media than in Congress. Trump defended Pelosi at the time.
On Saturday, Pelosi stood by Cummings and the city of Baltimore, where she was born, and rebuked Trump, calling his remarks "racist."