Watch: Lion stuns family on safari, comes within feet of them at campsite
A family on a safari in Africa had the encounter of a lifetime when a lion came within feet of them at their campsite.
One of the family members, who asked not to be named, told Storyful it happened at a natural reserve in Kgalagadi, Botswana, on May 8. Stunning video shows the lion wandering through the campsite before approaching the family's table.
Family members were frozen and silent, holding their breath as the lion sniffed around, knocked something over, then came within a few feet of them as he continued walking through the camp.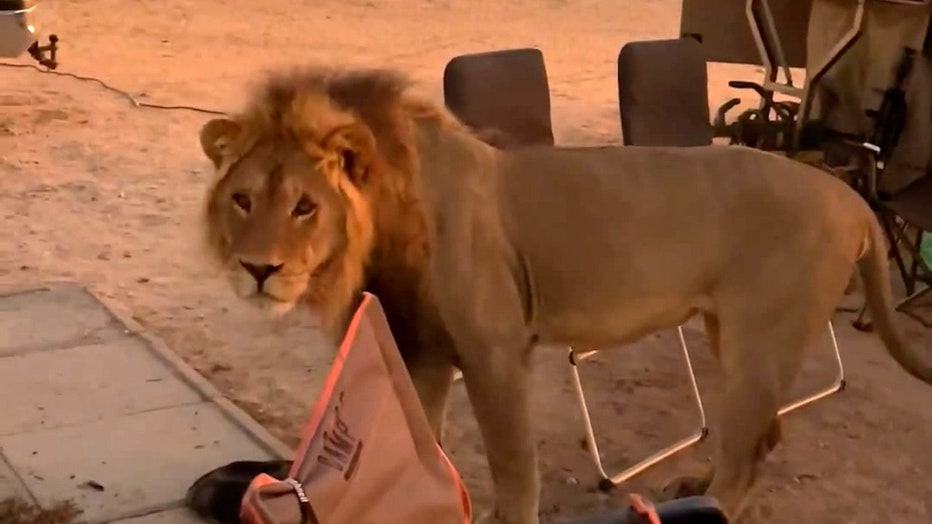 Lion turns and looks at family before leaving their safari campsite (Credit: Anonymous via Storyful)
The lion turned and looked at the family before he left.
The person who recorded the video said although it was a once-in-a-lifetime experience, the video shows there was "no room for error."
READ MORE: Yellowstone National Park officials say man disturbed baby bison, resulting in its death
"Lions come into the camps unannounced and in total silence as it happened to us," the woman said. "If anyone panics and runs or makes sudden movements, the chances are high that they may be attacked."