Almora's double in 9th lifts Cubs over Nationals 4-3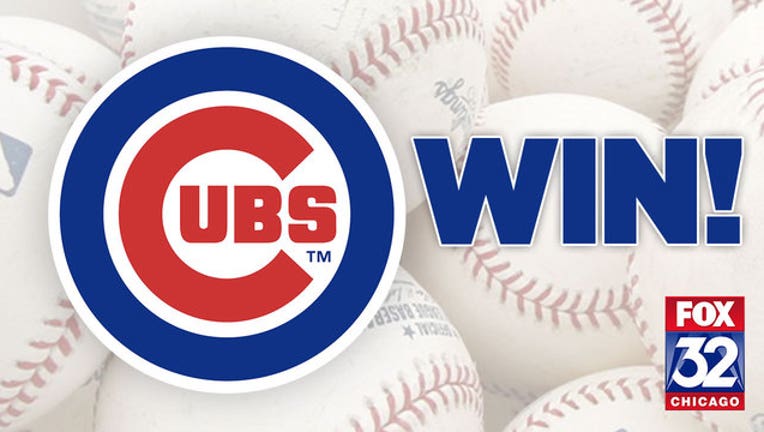 article
WASHINGTON (AP) - Albert Almora Jr. acknowledged his former Arizona Fall League foe when he batted against him in the ninth inning Tuesday night.
Then he spoiled the pitcher's night.
Almora drove in the go-ahead run with a ninth-inning double, Dexter Fowler had two hits and the Cubs defeated the Washington Nationals 4-3.
Addison Russell led off the ninth with a walk from Sammy Solis (1-2) and was sacrificed to second before Almora, who entered the game in the eighth inning, lined a shot to left center on the first pitch.
"We played against each other in the Fall League," Almora said of Solis. "We looked at each other. I gave him a little nod with the helmet. It was time to go to work. He made a good pitch and I just tried to stay up the middle and it fell for me."
The rookie outfielder joined the Cubs on June 7.
"The guy has been up here for five minutes," manager Joe Maddon said. "Goes up there and is not passive. He went up there, jumped on the first pitch and I loved it."
Solis bemoaned the leadoff walk.
"Can't do that, especially in a game like that," he said. "This hitting team, you can't give them any kind of edge and no outs man on first, it hurts."
Jason Heyward provided a two-run single for Chicago, which evened the three-game series between division leaders.
Washington, which had won four straight, tied it in the eighth on a sacrifice fly by Anthony Rendon off closer Hector Rondon. Rondon (1-1) pitched the final 1 2/3 innings for the win.
"Based on how the game played, I just had to do it," Maddon said of using his closer in the eighth. "He's had plenty of rest so that was part of the reason I was able to do that."
Washington was without closer Jonathan Papelbon, who was placed on the 15-day disabled list with a right intercostal strain.
Ben Revere's sacrifice fly in the seventh pulled Washington within 3-2.
Chicago's John Lackey, making his 400th career start, left after hitting a batter and allowing a double to start the seventh. He gave up two runs and four hits while striking out seven and walking two.
"Big Lackey really didn't come over the heart of the plate at all," Nationals manager Dusty Baker said. "He was dotting the outside part of the plate and starting guys off with breaking balls."
Lackey hadn't allowed a run in his previous two starts, covering 13 2/3 innings.
Gio Gonzalez gave up three runs and five hits over 6 1/3 innings. The Nationals starter struck out nine and walked four.
Bryce Harper was 0 for 2 with two walks and scored a run.
Chicago's Anthony Rizzo (0 for 5) saw his 10-game hitting streak end.
The Cubs bunched three hits with two outs in the third, starting with a single by Lackey and ending with Heyward's two-run single.
David Ross singled home Ben Zobrist, who led off with a walk, to make it 3-0 in the fourth.
"Biggest damage throughout the night was that walk," Gonzalez said. "If I can take that walk back . different ballgame."
Washington's first run came on Jayson Werth's third-inning bases-loaded sacrifice fly.
TRAINER'S ROOM
Nationals: Reinstated RHP Matt Belisle, who missed 45 games with a right calf strain, following a rehabilitation assignment.
UP NEXT
Cubs: Jason Hammel (7-2, 2.36) starts in the series finale. He's 9-0 with a 3.16 ERA in 12 career starts against the Nationals.
Nationals: Stephen Strasburg (10-0, 3.03) has won 13 straight decisions dating to last season. He hasn't faced the Cubs since August 2013.
400 CLUB
Lackey joined Bartolo Colon (479) and C.C. Sabathia (462) as the only active pitchers with at least 400 starts.
WERTH WATCHING
In his last six games, Werth is 10 for 23 (.435) with two doubles, a homer, nine RBIs, nine walks and five runs scored.