Bears look for ways to speed up Mitchell Trubisky's progress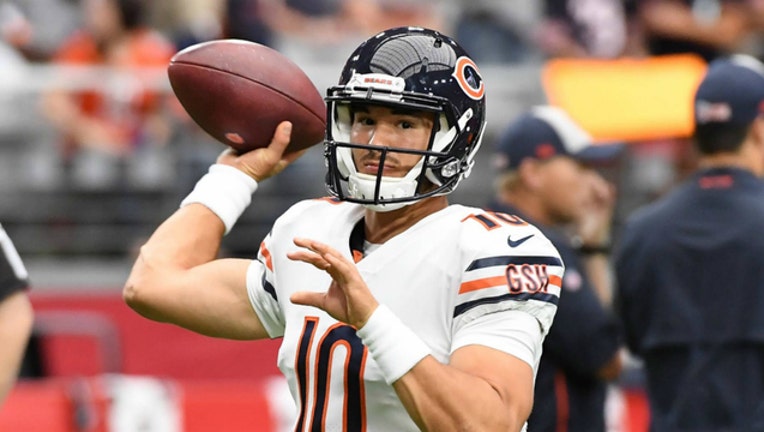 LAKE FOREST, Ill. (AP) - It's not exactly a comfortable feeling for the Chicago Bears, despite their current lofty status.
Alone in first place in the NFC North for the first time since late in the 2013 season, the Bears (2-1) know they've shown enough flaws for concern about upcoming games.
And most of their problems revolve around the offense, and quarterback Mitchell Trubisky.
"Offensively after watching the tape, again, red zone-wise yesterday wasn't good enough," Bears coach Matt Nagy said Monday, following Sunday's 16-14 win over the Arizona Cardinals. "We need to be better in the red zone, we need to get to a point to where we're putting touchdowns up on the board and not kicking field goals."
Chicago's offense reached the end zone once in two games and twice in the other, and Trubisky turned the ball over twice in the first half against Arizona.
"We did a good job moving the football, getting first downs and controlling the ball," Trubisky said after the win. "We just have to continue to find ways to get points."
The Bears have scored touchdowns on only 40 percent of their trips into the red zone, placing them in the bottom quarter of the league.
Trubisky's fundamentals while passing against pressure left something to be desired Sunday, as the Cardinals repeatedly blitzed.
"I thought that there were some good ones and I thought there were some he could get better at," Nagy said. "That's where we're at. He'll be the first to tell you that.
"We'll do everything we possibly can each week to make sure we limit those inaccuracies."
Trubisky threw for two touchdown passes for the first time ever in the Bears' 24-17 win over Seattle, but then followed with a passer rating of 73.5 Sunday against Arizona.
One possible way to improve Trubisky's effort would be to scale back the offense.
Considering he has started only 15 NFL games, it's possible Trubisky is at his limit in comprehending all the nuances of the team's new attack.
"I think that it's probably getting close," Nagy said.
Nagy added there are other factors slowing the offense besides his quarterback, but Trubisky must be completely aware of the best places to go with the football.
"When you feel like it's getting close to that breaking point or too much, you've got to pull back," Nagy said. "And so I feel like we've done a pretty good job so far with that.
"We'll continue to monitor that and see where he's at. We'll talk to him, we'll get feedback from him, as well as the other guys, and then try to figure out the 'why' part. Why aren't we where we want to be?"
A way to solve some of the offensive woes would be to get the ball downfield more often. Although the Bears are happy with their 36:21 of possession time Sunday, they've struggled all year with getting yards after the catch or long completions.
Allen Robinson had Chicago's season-long pass reception against Arizona with a 39-yarder to start a scoring drive.
"I think you can see what it does (with) the one we hit Allen down the sideline," Nagy said.
"You feel it, you feel that energy, you get the momentum going, the guys feel it, it stresses a defense when you have that. So those are important to have and we need to start connecting on those."
There are other problems, as well.
The defensive depth is being taxed after a hamstring injury to cornerback Prince Amukamara. His backup, Marcus Cooper, has a hamstring injury, as well.
By and large, though, the defense has been dominant thanks to Khalil Mack's pass rushing.
In fact, it's been so strong Nagy found himself being questioned about a potentially dangerous rift developing within the team as the defense carries too much of the load.
Nagy discounted this.
"As well and as dominant as our defense has been, there's going to be a time this year - I can't tell you when - but there's going to be a time this year when they need the offense," Nagy said. "I've been a part of both sides. I've been a part of where the defense is dominant and the offense is struggling.
"And you've got to make sure that you understand that there's 16 games in a season. It's going to balance out, typically."
___
More AP NFL: https://apnews.com/tag/NFL and https://twitter.com/AP_NFL