Bears move down, take K-State G Whitehair with 56th pick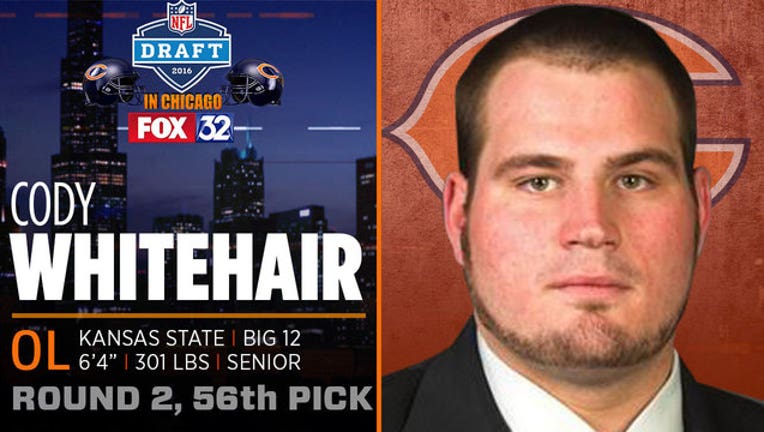 article
LAKE FOREST, Ill. (AP) - LAKE FOREST, Ill. (AP) — General manager Ryan Pace wants to create competition throughout the roster, and the Chicago Bears did just that on the offensive line.
The Bears added another blocker, drafting Kansas State guard Cody Whitehair with the 56th pick after trading down twice in the second round on Friday night.
The Bears went with Whitehair after taking Georgia outside linebacker Leonard Floyd with the ninth pick on Thursday. They then added another defensive player in the third round, grabbing Florida tackle Jonathan Bullard.
"It's pushing everybody," Pace said. "Everybody's being pushed. Every single one of those offensive linemen are getting pushed and I think that's what they would expect. We're going to try to do that with every single position on the roster — not just the offensive line."
Through free agency and now the draft, the Bears have no shortage of offensive linemen.
Chicago selected the 6-foot-4, 301-pound Whitehair after a flurry of moves that started with them trading the 41st pick to Buffalo for the No. 49 selection plus fourth-rounders this year and in 2017. After Green Bay traded up with Indianapolis, Chicago made another deal. The Bears sent the 49th pick to Seattle for No. 56 and a fourth-rounder.
"I'm just so thankful the Bears took me," Whitehair said. "I'm excited, I can't wait to get on the field and make great relationships with these new teammates. I'm so excited."
Chicago has three fourth-round picks, a fifth-rounder, two sixth-rounders and one selection in the seventh round on Saturday.
Projected as a potential first-round pick, Whitehair's stock fell after he performed just 16 bench-press reps at the Combine. He chalked that up to just a bad day while adding, "I'm more of a field-strong kind of guy."
Whitehair, a four-year starter, spent the last two seasons at left tackle after going from right tackle to left guard and back to right tackle. He sees himself as a better fit at guard because of his length.
Pace said the Bears see him as a guard who they think could also see time at center, a position where Whitehair has little experience.
"I've snapped the ball a little bit, not a whole lot," he said. "I'm just excited to be a Bear and wherever they need me to play, I'll do my best and work hard at it."
The Bears, 6-10 last season, cleared the way for three-time Pro Bowl pick Kyle Long to move back to right guard by signing former Arizona Cardinals right tackle Bobby Massie. They also have veteran Matt Slauson at left guard and Charles Leno at left tackle.
Pace, however, seemed noncommittal about Slauson's future with the team when asked if the veteran would be brought to training camp. Besides Whitehair, guard and center Ted Larsen is also in the mix after signing a one-year deal last month.
"We haven't even gotten to that yet," Pace said. "We're just adding talent and we'll let it all sort out."
He also did not rule out the possibility of moving Long to left tackle at some point, saying, "You guys know he can play any position."
The 6-foot-3, 285-pound Bullard moved between defensive end and tackle in college. He returned for his senior season after teams told him he would be a late-round pick last year and earned first-team all-SEC honors with 66 tackles — 17 1/2 for loss — and 6 1/2 sacks.
"I kind of used that as a chip on my shoulder to go out and prove that I was a highly talented guy," he said. "And I felt like I deserved to go higher, which also this year I felt the same in this draft. I waited longer than I expected, but I feel like I landed in a good place and I'm excited for it."
__
Online:
AP NFL website: www.pro32.ap.org and www.twitter.com/AP_NFL