Bears reach bye with different view: from top of NFC North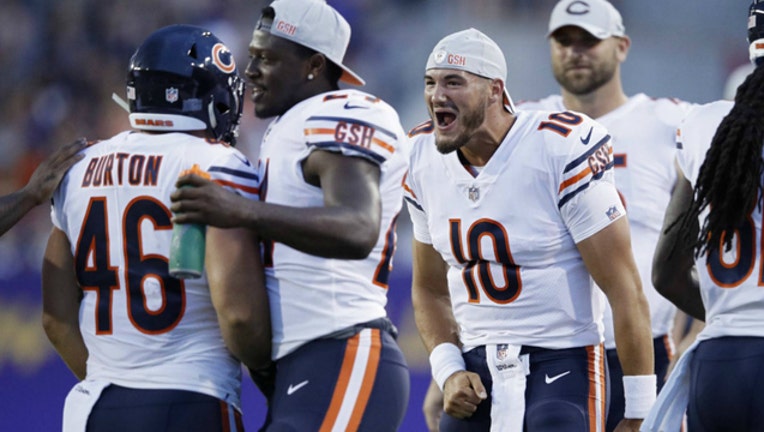 article
LAKE FOREST, Ill. (AP) - The Chicago Bears rolled into their bye with their most lopsided victory in six seasons and sole possession of the NFC North lead for the first time in five years.
For a team long buried at the bottom of the division, it's a different look. Just don't tell coach Matt Nagy the Bears are the surprise of the NFL.
"No, I'm not surprised," he said.
The Bears expected better things after a busy offseason that included a coaching change, an influx of playmaking targets for quarterback Mitchell Trubisky and the blockbuster trade with Oakland for Khalil Mack just before the start of the season.
But sole possession of the division lead?
That's a spot the Bears (3-1) hadn't occupied since late in the 2013 season, Marc Trestman's first year coaching the team. Yet, they're looking down at the rest of the division after four straight last-place finishes.
"You go back to April 3 when we got together as a team," said Nagy, a rookie head coach after working as an assistant under Andy Reid in Philadelphia and Kansas City. "We talked about who we wanted to be and what our goal was. And so what happens is when you start believing in that thing and then you start doing it in real games, you get tighter as friends. You get tighter as teammates. You get tighter as coaches. What we can do now is kind of reflect at 3-1 where we're at. We understand it's a super-long season."
The Bears have won three in a row since blowing a 20-point lead against an injured Aaron Rodgers and the Green Bay Packers in a season-opening loss at Lambeau Field. It's their longest win streak since a 3-0 start in 2013.
Their defense has dominated all season with Mack leading the way. And with the offense breaking out in a 48-10 romp over Tampa Bay last week, just about everything seems to be falling in place for the Bears.
The bye comes a time when they have a few injury issues. Chicago lost backup linebacker Sam Acho for the rest of the season to a torn pectoral muscle. Cornerbacks Prince Amukamara and Marcus Cooper are recuperating from hamstring injuries. Defensive end Akiem Hicks opened himself up to a potential suspension when he got ejected for bumping an official last week.
Those issues aside, the Bears are looking good at the moment.
Trubisky had the sort of breakthrough game against Tampa Bay that Chicago had been waiting for since he was drafted with the No. 2 overall pick in 2017. The prized quarterback threw for a career-high six touchdowns - one shy of an NFL record shared by Bears Hall of Famer Sid Luckman and seven others - facing a short-handed secondary. Chicago also matched its most lopsided win since beating Jacksonville 41-3 on Oct. 7, 2012, and put up its highest point total since a 51-20 victory over Tennessee later that season.
"That was the kind of a breakthrough that we were kind of hoping for and what we expect to do on offense," Trubisky said.
The question now for the Bears is this: Can they keep it going?
Their three wins are against teams that missed the playoffs last season. The Bears also beat Seattle and Arizona.
Chicago's next game is at Miami - 3-1 heading into a matchup with Cincinnati despite being outscored 90-82 - before Tom Brady and the New England Patriots visit on Oct. 21.
"We're getting better every week and that's what you want to see," Mack said. "To see the guys in the back end making plays, that's what you want to see. And being in a position to affect the quarterback to make them make those throws. It's a good feeling, especially going into the bye."
The Bears rank fourth overall on defense, lead the NFL with 18 sacks and rank second with eight interceptions. Chicago and Tennessee are the only teams not to allow a rushing touchdown.
Mack has been the havoc-wreaking force the Bears anticipated, helping turn a top-10 defense into one of the league's best so far. He's tied for second in the NFL with five sacks and is the first NFL player with a sack and forced fumble in four straight games since Robert Mathis for Indianapolis in 2005.
He hasn't been the only big contributor on defense. Hicks has three sacks and two forced fumbles. Danny Trevathan and Aaron Lynch each have a pair of sacks.
But the Bears' hopes still largely hinge on Trubisky.
He's 19th in the league with 945 yards passing, yet coming off a huge game that the Bears hope will be a turning point for him. Time will tell on that.
For now, the Bears are rolling along in sole possession of the NFC North lead. And, that's quite a change for a team used to looking up at everyone else.
___
More AP NFL: www.apnews.com/tag/NFL and www.twitter.com/AP_NFL