Bears turn receivers to blockers to accent running attack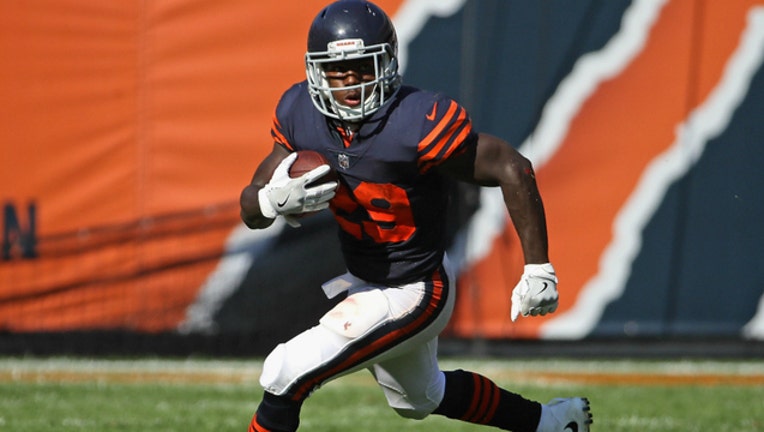 article
LAKE FOREST, Ill. (AP) - Wide receivers are beginning to take on more of a role as blockers than pass catchers for the Chicago Bears.
For the Bears, it's a case of making do with what they have.
In Sunday's 23-17 victory over the Pittsburgh Steelers, Mike Glennon targeted wide receivers only four times in his 21 attempts and completed one 9-yard pass to Deion Thompson.
"It's execution," coach John Fox said Monday at Halas Hall. "Regardless of what you're doing, whether you're throwing or running, you've got to get that done."
Glennon has made only 27 of his 72 completions to wide receivers, and the Bears haven't had a pass to a wide receiver longer than 20 yards as they head into Thursday night's game at Lambeau Field against the Green Bay Packers.
Whether they can continue to flourish in this manner against strong teams such as Green Bay (2-1) remains to be seen. They got away with what might be considered an "ugly" win against Pittsburgh by running for 220 yards, with Jordan Howard gaining 138 and Tarik Cohen 78.
"I don't believe in ugly wins - whatever it takes to win," Fox said. "They can't take them (wins) from you. I think there's a lot to be learned (from Sunday). There's how to win, and I thought our guys did the things necessary to get us the win."
While the overtime victory on Howard's 19-yard run was a thing of beauty from the running game's standpoint, it wasn't perfect.
Glennon doesn't have the receivers he started the season with due to injuries. Kevin White (shoulder) and Cameron Meredith (knee) are on injured reserve. Markus Wheaton played his first game Sunday following a broken finger, and didn't make a catch.
Glennon after the game called it a case of leaning on what he has available: the speedy Cohen and Howard, who is running hard despite a shoulder injury.
"They're one of the best running back duos in the league, and we can't forget Benny (Cunningham), he's a huge part of our offense, too," Glennon said. "But those two guys, though, they're special."
Thompson and Josh Bellamy showed there is more to playing receiver than catching passes when each made a key block downfield for big overtime runs. Bellamy's block opened the outside for a 36-yard Cohen run, and Thompson's downfield work made it easy for Howard to score the winning TD.
The blocking even impressed Kyle Long, who returned to the lineup from an ankle injury for his first start since Nov. 13 at right guard, where he helped open the running lanes.
"I guess it would be the same thing as if Deonte were to see us (linemen) make a great catch or something," Long said of his reaction. "It's like, you see a player like that make a block and these (receivers) are paid to run really fast and catch the ball.
"I think blocking is kind of like a tertiary, optional thing. It's not a hobby for those receivers."
Fox wouldn't confirm Glennon as the starting quarterback this week, noting it should be obvious.
"He wasn't perfect as far as the mistakes and turnovers, but like everybody out there, they played well enough for us to win," Fox said.
O-LINE WOES: Running can't be easy with more injuries hitting the Bears on the offensive line.
Center Hroniss Grasu suffered a hand injury Sunday and Fox wouldn't specify how severe it is. Without Grasu, and with guard Josh Sitton suffering from a rib issue, Cody Whitehair moved to center and backup tackle Bradley Sowell played left guard.
"He's a tough dude," Long said of Sowell. "And he is fearless. And he is a throwback offensive lineman.
"He can play any number of positions on the offensive line, tackle or guard, and he's done so for us on short notice. At the drop of a hat, I mean, the guy is ready to roll."
NO DEMPS: The Bears learned Monday they will face Aaron Rodgers and the Packers without starting safety Quintin Demps. Late in Sunday's game Demps broke his left arm. Fox wouldn't say whether Demps will have to go on injured reserve. He'll be replaced by former starter Adrian Amos.
Demps signed in free agency as the Bears sought to increase interceptions. They had eight each of the last two years, franchise lows.
This season they haven't made an interception.
"We feel good about guys stepping in," Fox said. "Obviously we don't want to see anybody get hurt or injured, but those other guys are worthy."