Blackhawks F Patrick Kane quietly celebrates 30th birthday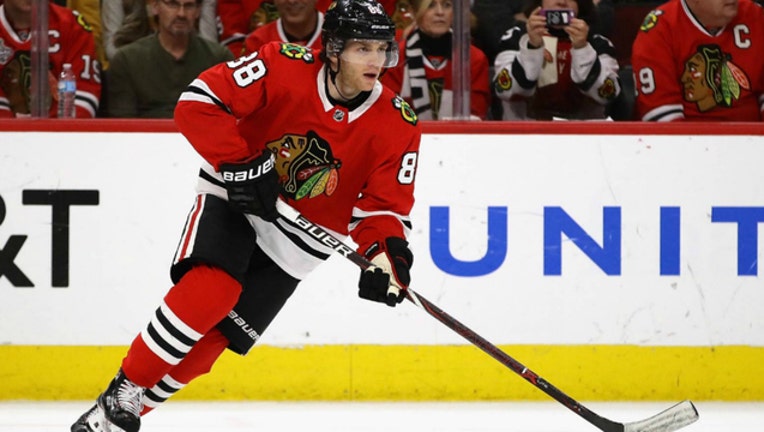 article
CHICAGO (AP) - Patrick Kane had the day off for his birthday. The high-scoring engine of the Chicago Blackhawks spent some time with his girlfriend, and watched hockey and Monday Night Football.
It was a nice soft landing for the start of his 30s. On the ice, he has no interest in slowing down.
The once youthful core of three Stanley Cup titles took another hit when Kane turned 30 on Monday, a development that seemed much further away when he burst onto the scene with his only NHL team way back in 2007. But Kane himself seems to be wearing the number just fine.
"I mean you think about turning 30 and then it's like, OK, you know, whatever, it's just a number," he said after practice on Tuesday, "and then all of the sudden, it's like you're 30 now. It's a little bit different. But you know it is what it is and try to just keep plugging along here."
After two years of declining numbers, Kane is doing a lot better than plugging along. He leads Chicago with 12 goals and 13 assists heading into Wednesday night's game at Washington. He also is averaging a career-high 21:40 of ice time.
While Kane is still going strong, Chicago is trying to get back on track after longtime coach Joel Quenneville was fired during an eight-game losing streak. The Blackhawks also missed the playoffs last season for the first time in a decade.
Jeremy Colliton, who replaced Quenneville, is just three years older than Kane.
"He's such a competitor. He wants to win. He wants the team to do well," Colliton said. "He puts a lot of pressure on himself to be the guy to help the team win. That's tough. That's a big load to carry. But he competes. He wants to make a difference every night and when you're coaching a team, you got a guy with that amount of skill with that mentality, it's pretty fun."
After Quenneville was fired Nov. 6, Kane openly wondered if the situation might have been different if he wasn't battling an illness during the coach's last road trip with the team.
While time has made Kane a better player in several ways, it also has taken a toll.
"I think I was a little bit more carefree when I was younger," Kane said. "I wouldn't get as frustrated, so that's probably one thing I would take with me. But as far as my game, I'm pretty happy with where I'm at. Just keep improving. Still think I got a little bit more to go on the ice this season."
Kane's family visited this past weekend, and he had two assists in Sunday's 3-1 victory over Minnesota. He said his three sisters put together a video of friends, family and former and current teammates wishing him a happy birthday.
He played 19 1/2 minutes against the Wild after clearing 24 minutes in Friday night's shootout loss to the Los Angeles Kings. When it comes to his ice time, even as he begins his 30s, Kane wants as much as he can get.
"I feel great," he said. "Obviously love playing, love being out there. Any ice time for me is definitely welcomed. I feel the more I get out there, the more I get into the game, the more I can help the team out."
___
Jay Cohen can be reached at https://twitter.com/jcohenap
___
More AP NHL: https://apnews.com/NHL and https://twitter.com/AP_Sports