Blackhawks goalie Crawford to make season debut vs Coyotes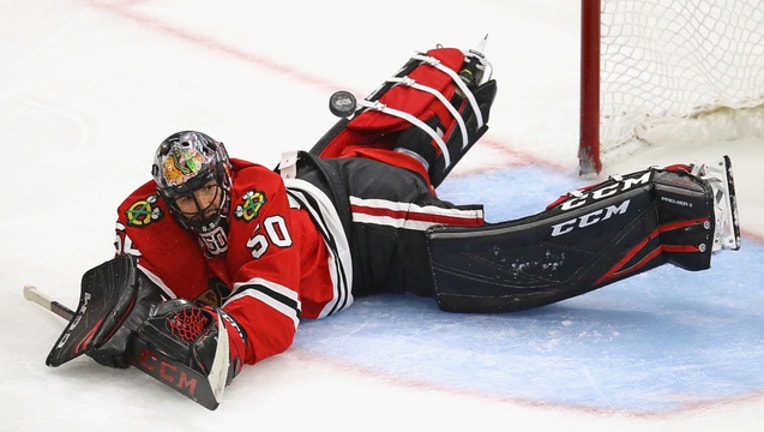 CHICAGO (AP) - Blackhawks goaltender Corey Crawford will start Thursday night against Arizona in his first game since he missed most of last season because of a concussion.
Coach Joel Quenneville confirmed Crawford's return at the team's morning skate. Rookie forward Luke Johnson was assigned to Rockford of the American Hockey League, leaving three goaltenders on Chicago's roster.
It's the first game for Crawford since Dec. 23.
"It's exciting," Quenneville said. "I'm sure he's looking forward to it and we all are excited about him in there as well. It'll be a fun situation for the guys seeing him back in net as well, so we're looking for everybody to be excited about tonight's game."
The 33-year-old Crawford helped Chicago win the Stanley Cup in 2013 and 2015. Without him last season, the Blackhawks tumbled into last place in the Central Division and missed the playoffs for the first time since 2008. The two-time All-Star has 230 wins, a 2.37 goals-against average and a .919 save percentage in 409 career games.
"I think we're all happy to see him back on the ice," star forward Patrick Kane said. "He seems like he's in a good mood lately. A lot of smiles out there. Good to have him back."
Crawford went 16-9-2 with a 2.27 GAA last season before he was placed on injured reserve. He faced some shots during a morning skate in Arizona on Feb. 12, but was never able to come back.
Crawford's return creates a crowded situation in Chicago's net with Cam Ward and Anton Forsberg. Ward started Chicago's first five games. Forsberg hasn't played yet this season.
Beginning with the matchup with the Coyotes, the Blackhawks have three games in the next four nights and seven in the next 11 days.
"We'll see how that goes. I know that we have three right now on our roster," Quenneville said about the goaltending situation. "With three in four nights, we'll see how that plays out."