Brewers beat Cubs 5-1 to move within 1 game in NL Central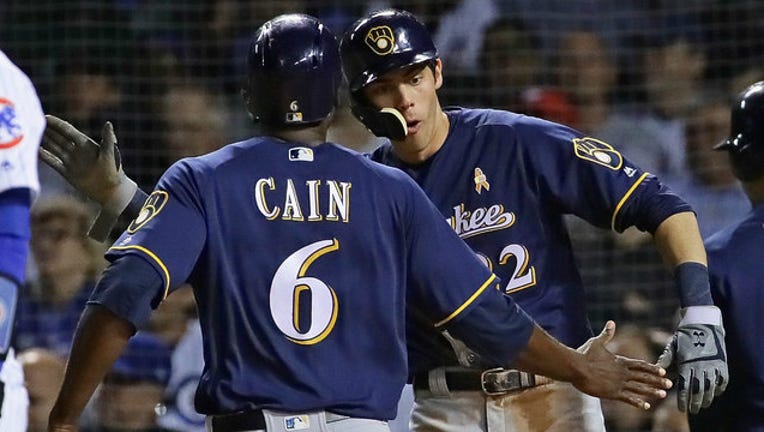 article
CHICAGO (AP) - Although the Milwaukee Brewers still trail in the NL Central, they believe the pressure has shifted to the first-place Cubs.
Curtis Granderson homered, tripled and scored three runs, Lorenzo Cain added three hits and the Brewers beat Chicago 5-1 on Wednesday night to move within a game of the division lead.
Granderson finished with three hits and Mike Moustakas had a two-run single for Milwaukee, which took two of three at Wrigley Field.
Josh Hader (6-1) struck out three in a scoreless eighth to get the win. Six Brewers pitchers combined to hold Chicago to six hits.
"We put ourselves in a spot where the division is within reach," Milwaukee manager Craig Counsell said. "Now you feel like, really, take care of your own self. You play well and you have a chance to be there."
When asked if winning the series puts pressure on the Cubs, Counsell said: "For sure. That was the goal coming in."
Kris Bryant had two hits and drove in Chicago's run.
"We're still in first place; I'm not worried about that," infielder Javier Baez said. "We know we'll come through as a team. Nobody is going to beat us if we go out there and play."
Granderson nearly began the game with his 48th career leadoff homer, but it was ruled a triple following an umpire review. The ball appeared to bounce off the top of the home run basket twice before falling back into the field of play.
"That might be my basketball skills," Granderson said. "If I would have gotten them in before, then I would have been playing basketball."
Two batters later, Cain singled to drive in Granderson for the game's first run. Travis Shaw's sacrifice fly in the third gave the Brewers a 2-0 lead.
Milwaukee starter Chase Anderson allowed just two hits in four innings before being lifted for a pinch-hitter in the fifth. Chicago then scratched across a run in the bottom of the fifth against relievers Jacob Barnes and Corey Knebel.
Pinch-hitter Tommy La Stella, batting for starter Kyle Hendricks (11-11), led off with an infield single against Barnes and advanced to second on a throwing error by shortstop Hernan Perez. Three batters later, with La Stella on third, Bryant doubled off a 98 mph fastball from Knebel to make it 2-1.
The Brewers gave themselves some breathing room with three runs in the ninth. Granderson led off with a homer against Steve Cishek to make it 3-1. Later in the inning, Moustakas singled through the left side with the bases loaded to make it 5-1.
"Grandy starting the game off and then the homer in the ninth, those were the big moments in the game," Counsell said.
DARVISH SURGERY
Cubs RHP Yu Darvish underwent an arthroscopic procedure on his right elbow to clean out loose debris, the team announced. Darvish was declared out for the season last month after an MRI revealed a stress reaction in the elbow. He recently visited noted orthopedic surgeon James Andrews for a second opinion, and the surgery was recommended.
The procedure, termed a debridement, was performed in Dallas by Texas Rangers physician Keith Meister.
DAY TRIPPIN'
Before opening a three-game home series with Cincinnati this weekend, the Cubs will play a makeup of Sunday's rainout on Thursday in Washington. They are not happy about losing a scheduled day off because it means going 30 straight days without one.
"Playing 30 consecutive days is the difficult part," manager Joe Maddon said. "For me, I don't think that's been discussed enough regarding whether to play or not."
The Cubs announced that Friday's game against the Reds has been moved to 7:05 p.m. It had been scheduled for 1:20.
TRAINER'S ROOM
Cubs: RHP Brandon Morrow (right biceps inflammation) threw a 35-pitch bullpen and his next step will be a simulated game this weekend. If all goes well, Morrow hopes to return to the active roster by the end of next week. ... LHP Jon Lester (back spasms) played catch and appears ready to make his scheduled start Saturday after leaving Monday's game in the sixth inning.
UP NEXT
Brewers: LHP Gio Gonzalez (8-11, 4.40 ERA) makes his second start with Milwaukee on Friday night in the opener of a home series against Pittsburgh. RHP Chris Archer (4-7, 4.56) pitches for the Pirates.
Cubs: LHP Mike Montgomery (4-5, 3.85 ERA) takes the mound for Thursday's makeup game at Washington. RHP Joe Ross makes his season debut for the Nationals.
___
More AP MLB: https://apnews.com/tag/MLB and https://twitter.com/AP_Sports