Cable, No. 3 Notre Dame women hold off No. 18 DePaul 95-90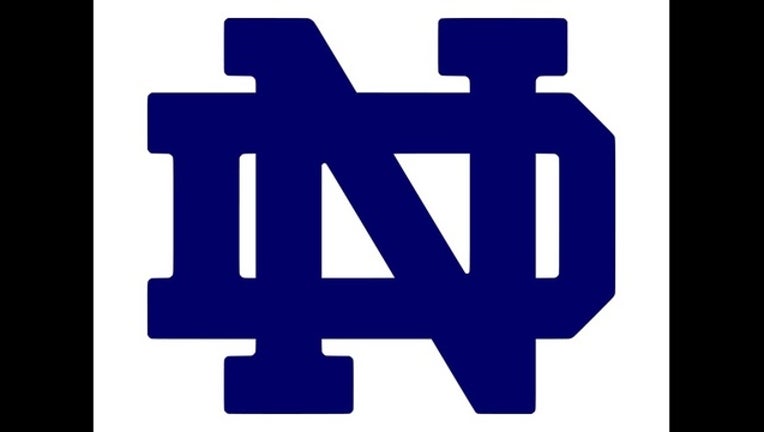 article
SOUTH BEND, Ind. (AP) - It goes in the record book as a win over another ranked team for No. 3 Notre Dame, but a near-collapse in the second half did not sit well with coach Muffet McGraw.
The Irish scored 65 points in the first half Wednesday night and built a 26-point lead over No. 18 DePaul, but had to hold off a furious Blue Demons rally down the stretch to come away with a 95-90 victory.
"I thought we got complacent in the second half, and we can't do that," McGraw said. "The defense was just absolutely unacceptable."
Madison Cable had 21 points and 10 rebounds to lead the Irish (8-1), who shot 76.5 percent from the field (26 of 34) in the first half, including 8 of 11 from 3-point range.
Notre Dame broke the Blue Demons' signature press during its fast start. DePaul opponents were averaging just over 60 points per game coming in, but the Irish hit 61 with 2:20 left in the first half.
"They were on fire, making tough, long shots, and we were giving up too many layups," DePaul coach Doug Bruno said. "We went back to traditional, straight man (defense) and that's really what stabilized us."
DePaul (6-3) used a 19-5 run in the third quarter to get back into the game. Chanise Jenkins scored 21 points and Jessica January added 17 for the Blue Demons, who hit 9 of 13 3-pointers in the second half. Jenkins finished 4-for-6 from the arc.
"We said we can come back and win this thing," Jenkins said. "There's no way we should be down that much so we buckled down."
Notre Dame got 38 points off the bench, led by Arike Ogunbowale's 16. Freshman Marina Mabrey made her first career start and also finished with 16 points. Lindsay Allen added 12 points and eight assists.
The Irish faced their third straight ranked opponent and now have won eight straight against the Blue Demons, who haven't beaten them since 2008.
The y took control in the second quarter with a 23-4 run, including 14 straight capped by Michaela Mabrey's 3-pointer from the left wing. At that point, Notre Dame had made 22 of its 27 shots.
The Irish committed seven turnovers in the first seven minutes of the game, but also hit 11 of their first 12 shots and broke the DePaul press enough to take an eight-point lead on Ogunbowale's layup with 2:02 left in the first quarter.
"They pressed us in the first half and we handled that really well," McGraw said. "Credit their defense, they changed what they were doing."
ON THE MEND
After missing Notre Dame's last two games with a sore Achilles, forward Taya Reimer suited up for the Irish and made her first appearance off the bench with 1:10 left in the first quarter. She played 16 minutes.
Fellow forward Brianna Turner has now missed five games with a shoulder injury, but was no longer wearing a sling Wednesday night.
"She hasn't practiced but she is rehabbing and doing very well," McGraw said of Turner. "We're hoping she'll come back at some point, but not this week."
TIP-INS
DePaul: This marked the start of a four-game road swing that will take the Blue Demons to No. 15 Texas A&M, South Dakota State and No. 12 Northwestern over the next 10 days. DePaul has already faced (and lost to) No. 4 Baylor and No. 1 UConn this season.
Notre Dame: The Irish tied a school record with 13 3-pointers in last Saturday's 91-81 loss at top-ranked UConn, and ranked second in the nation in 3-point field goal shooting at 45.3 percent coming into Wednesday. They hit 12 of 20 from the arc against DePaul.
UP NEXT
DePaul travels to face No. 15 Texas A&M on Saturday.
Notre Dame is at TCU on Saturday.