Chicago Bears WR Kevin White out with broken collarbone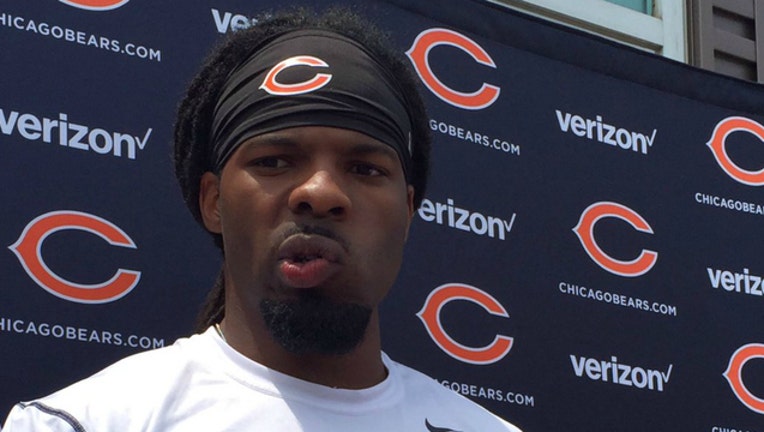 article
LAKE FOREST, Ill. (AP) - Wide receiver Kevin White suffered a broken collarbone against the Atlanta Falcons and will go on injured reserve for the third straight season.
The Bears are not calling it a season-ending injury because they have the option of activating players on injured reserve later if they've healed.
"We'll evaluate moving forward whether he can return or not," Fox said Monday. "That's pretty open-ended now with the new (injured reserve) rules."
Fox said it isn't a certainty whether White will have surgery, but confirmed it's a possibility.
"My heart goes out to him," Fox said. "He was very disappointed and discouraged in the locker room after the game for obvious reasons."
The seventh pick of the 2015 draft out of West Virginia, White was injured in the fourth quarter of Sunday's season-opening loss after his second catch for no gain. He came off the field, favoring the shoulder slightly, and later went to the locker room. The team confirmed the severity of the injury Monday.
White went on injured reserve last year after suffering a spiral fracture to his left fibula in the fourth game. White missed all of 2015 with a stress fracture to his left tibia.
In three seasons, White has played five games and has 21 receptions for 193 yards without a touchdown.
White was unavailable for comment after the game or Monday at Halas Hall, but expressed his feelings via Twitter: "I ask why me, but I know God has a plan much bigger than what I want. I'm thankful for everyone that's supporting me."
The injury means the Bears are now without both the starting receivers they began with at training camp. Cameron Meredith suffered a torn left anterior cruciate ligament in the third preseason game against the Tennessee Titans.
Wide receiver Markus Wheaton just began catching a real football at practice last week after missing almost a month due to a broken pinkie, and could join the team this week in preparation for Sunday's game in Tampa. Fox said Wheaton was practicing "with a fairly major club on his hand" last week.
It's possible the Bears could elevate undrafted rookie Tanner Gentry from the practice squad or sign a free agent wide receiver.
They signed former Tennessee Titans receiver Tre McBride III off waivers at the end of preseason, but he was not active for Sunday's game. Slot receiver Kendall Wright and key special teams players Deonte Thompson and Josh Bellamy were the only wide receivers active Sunday besides White.
The Bears wound up last season with 19 players on injured reserve and were hoping their overall depth was improved this season.
"We dealt with that more than our share last year, and it's not unusual but we'll adjust," Fox said.
The Bears also are dealing with a concussion and a pectoral injury to linebacker Jerrell Freeman. Running back Benny Cunningham suffered a high ankle sprain and his status will be updated later in the week.
With key players going out, Fox was glad to see the success of undersized rookie running back Tarik Cohen, who is 5-foot-6 and 181 pounds. Cohen ran five times for 66 yards, caught eight passes for 47 yards and returned three punts for a 15-yard average.
"He's a man. He's a man," tight end Zach Miller said. "I don't care about his stature, he's a man. He took a ton of shots, hopped back up. Can't say enough about him."
Cohen wasn't on the field on three downs when the Bears failed to score on four tries from the 5-yard line in the final 30 seconds against Atlanta.
"I know we have a lot of playmakers all around this team," Cohen said. "Just because I'm not on the field doesn't mean a play can't be made."
Fox called the need for more pass blocking the reason.
"I think you've got to look at, again, the running back position there's a lot to that job - not just what kind of athlete you are getting out of the backfield," Fox said. "There's a lot of protection involved and we'd had a couple of those issues earlier in the game."
___
More AP NFL coverage: http://pro32.ap.org and https://twitter.com/AP_NFL