Chicago Cubs calling up top prospect Pete Crow-Armstrong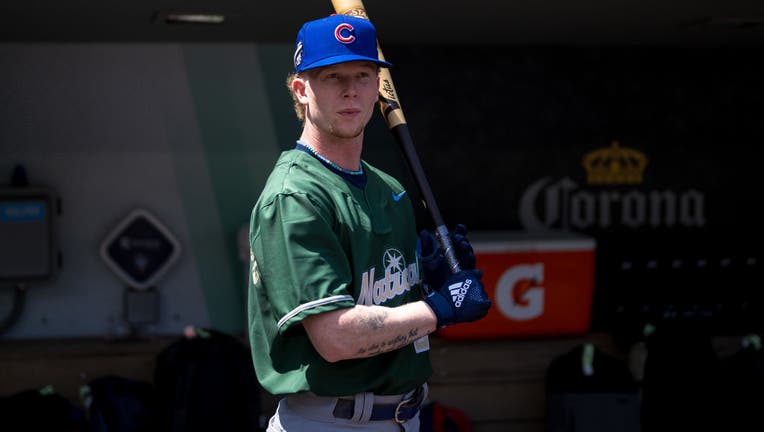 article
CHICAGO - The Chicago Cubs called up their top prospect, Pete Crow-Armstrong, from Triple-A Iowa this week.
Crow-Armstrong was picked 19th overall by the New York Mets in the 2020 draft, and in 2021, the Cubs acquired the outfielder in a trade that sent Javier Baez to the Mets. 
The 21-year-old will wear number 52 and is available for Monday night's game against the Colorado Rockies at Coors Field, the club said. The game is scheduled to start at 7:40 p.m. CT.
Crow-Armstrong has combined to hit .284 with 26 doubles, seven triples, 20 home runs, 82 RBI, 37 stolen bases and an .876 OPS in 107 games between Double-A Tennessee and Iowa this season, according to the team. He has batted .288 with 14 home runs and an .888 OPS against right-handed pitching and hit .272 (34-for-125) with six home runs and an .846 OPS off left-handed pitching. 
Standing at five-foot-eleven, Crow-Armstrong hit a combined .312 (132-for-423) with 20 doubles, 10 triples, 16 home runs, 61 RBI, 32 stolen bases and 36 walks, contributing to a .376 on-base percentage and an .896 OPS, in 101 games with Low-A Myrtle Beach and High-A South Bend in 2022, the club reported.
Fun Fact:
The outfielder's mother, Ashley Crow, is an actress who played Jenny Heywood in Little Big League, which is a movie about a 12-year-old boy who becomes the manager and owner of the Minnesota Twins after his grandpa dies. 
Now that the Cubs have called him up, she will be the mother of an MLB player.