Chicago's Duncan Keith set to return from 6-game suspension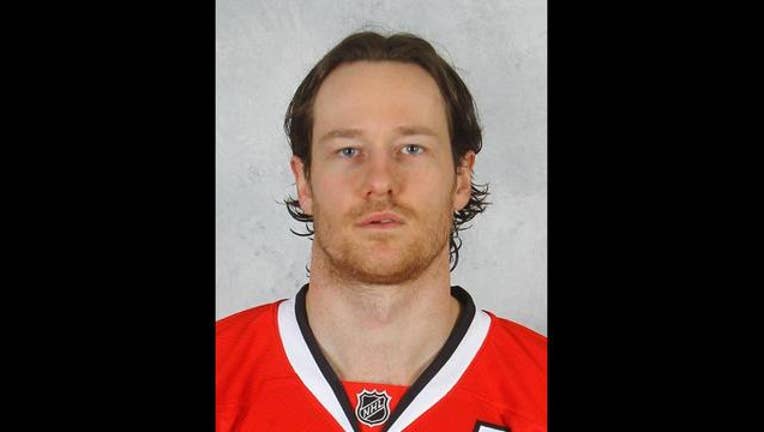 article
ST. LOUIS (AP) - Ken Hitchcock meant no disrespect when he said Duncan Keith was "just a player on the other team."
The St. Louis Blues coach knows Keith well, working as an assistant coach on two Olympic gold-medal winning teams that included Chicago's star defenseman. It's just that complimenting the opposition has always made him uneasy.
Keith returns from a six-game high-sticking suspension for Game 2 of the first-round playoff series on Friday night. No doubt he'll be a factor going forward, eating the most minutes on the team and making an impact on transition, too, as Chicago tries to even the series after losing 1-0 in overtime (8 p.m. ET, NBCSN).
"If I'm going to start oohing and aahing about the opposition, that's a big mistake," Hitchcock said Thursday. "We're certainly not going to talk about what he does well. We're going to see if we can exploit some things."
The Blues are well aware what Keith is capable of adding to the defending Stanley Cup champions.
"He's a calm guy back there, he does a great job of breaking them out of their zone," defenseman Kevin Shattenkirk said. "I think that's something he really excels at."
Well, Keith is calm most of the time.
"If we can get him to react and get him to maybe get suspended another few games, I think it'll be better for us," Shattenkirk added. "I'm sure that coming off this little break he's just ready to play hockey the rest of the way."
Hitchcock wants more purposeful hitting in Game 2. Keith said the suspension won't change a thing in his game, and he's not worried about the physical Blues looking to get under his skin.
"It's not the first big game I've played in," Keith said. "As far as dealing with somebody trying to get a reaction out of me, I take hits all the time. That's all a part of it."
No doubt the Blackhawks are happy to have Keith back in the mix.
"He's a huge piece of our defense, plays a lot of minutes, plays in a lot of big situations," forward Patrick Kane said. "Every situation. And you know he's ready to get back and he's rarin' to go."
The Blues prevailed in Game 1 despite getting outshot 35-18, relying heavily on sharp play from goalie Brian Elliott.
Other things to watch for on Day 3 of the NHL playoffs Friday night, which will include the New York Islanders and the Florida playing on back-to-back nights (Game 2, 7:30 p.m. ET, NHLN) and Nashville opening its series in Anaheim (10:30 p.m. ET, NBCSN):
___
Red Wings at Lightning, Tampa Bay leads 1-0, 7 p.m. ET, CNBC
Victor Hedman's one-timer off a perfect pass from Valtteri Filppula momentarily snapped a third-period tie in Game 1 of Tampa Bay's first-round series against Detroit. But what the Lightning defenseman jokingly described as maybe the best shot "in my life" was waved off when the Red Wings successfully challenged that Tampa Bay's Jonathan Drouin was offside on the play.
The challenge was the first to reverse a call in an NHL postseason game.
In the regular season, there were 266 coach's challenges with 198 upheld and 68 plays overturned, according to STATS. By far the most challenges, 152, were for goalie interference with 121 upheld and 31 overturned — and 28 to no goal and three to goal.
Sixty-five challenges wiped out goals, including two by Tampa Bay, and just three were changed from no-goal to goal. A total of 88 challenges were for offside, with 53 upheld.
Was Wednesday night's decision a big boost for Detroit and a downer for Tampa Bay? Not at all. Less than two minutes later, Alex Killorn got the game-winning goal in a 3-2 victory for the defending Eastern Conference champions.
"There wasn't one ounce of guys being rattled on the bench; everybody was positive. There was not one sense ... that 'we are in trouble,'" Lightning coach Jon Cooper said.
Detroit coach Jeff Blashill said the Red Wings need to put more pressure on Lightning goalie Ben Bishop, who had 34 saves in the opener.
"We know he's a really good goalie," Blashill said. "But like any good goalie, if we do a real good job of getting that presence and do a good job of getting the seconds, we have the opportunity for success."
___
AP Sports Writer Fred Goodall contributed to this report.