Coyle's shootout goal gives Wild 3-2 win over Blackhawks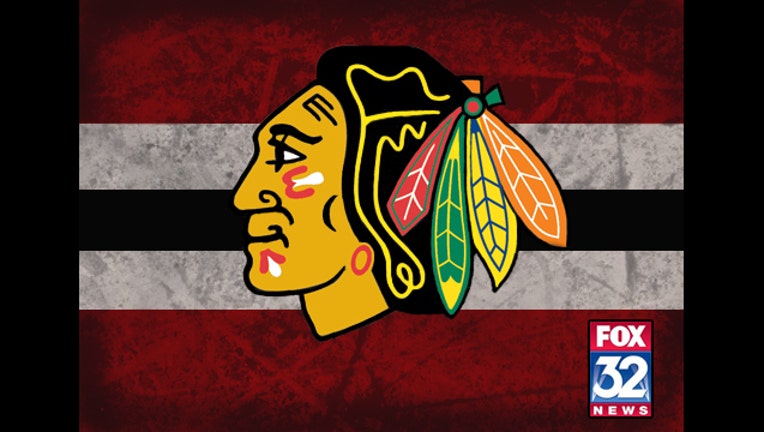 article
CHICAGO (AP) — For the second straight game, Charlie Coyle came through in the shootout to keep the Minnesota Wild within one point of a playoff spot.
Coyle scored the only goal in the tiebreaker to lift the Wild to a 3-2 victory over the Chicago Blackhawks on Sunday night.
Coyle, Minnesota's first shooter, beat Chicago's Scott Darling with a backhander a night after he and Zach Parise scored in the shootout in a home win over Carolina.
"It's kind of last-second," Coyle said of his in-tight forehand-to-backhand move that improved him to 3 for 5 in shootout attempts this season. "You always have moves in your head, looking for a shot if it's there. Sometimes it opens up. Sometimes you get lucky."
Minnesota remained one point behind Colorado, which beat Edmonton, for the Western Conference's second and final wild-card spot.
"We've had back-to-back nights of it," Minnesota coach John Torchetti said of the consecutive shootout victories. "It says we want it. Some people question us. Not me. I think we want it."
Nino Niederreiter had his 18th goal and added an assist, and Erik Haula also scored in regulation as the Wild improved to 4-0 against Chicago this season.
"We love playing in these games. I'm sure they do too," Haula said. "It doesn't really matter right now; just getting in the playoffs is what matters."
Devan Dubnyk stopped 29 shots through overtime and then was perfect in the shootout against Chicago's Jonathan Toews, Patrick Kane and Artemi Panarin.
Andrew Shaw scored his 12th goal to end an 11-game drought and linemate Richard Panik connected to end a 14-game streak without a goal to bring the Blackhawks back from a 2-0 deficit.
"They got an early lead and put us behind the 8-ball," Shaw said, "but we knew if we kept sticking to our game we could fight our way back and that's exactly what we did."
Darling made his third straight start and finished with 32 saves, including several point-blank stops, as Blackhawks No. 1 goalie Corey Crawford remained sidelined day-to-day with an upper-body injury.
"He played unbelievable," Shaw said. "He made some big-time saves, especially late in the game there. He was our first star tonight."
Kane, the NHL's leading scorer, got up slowly after colliding with Minnesota's Matt Dumba at the Wild blue line early in the third, but returned minutes later.
The Blackhawks outshot Minnesota 13-7 in the scoreless first but generated almost nothing during a 4-minute power play early in the period, set up by Parise's double-minor for high-sticking Michal Rozsival.
The pace picked up late in the period, spurred by a high-energy shift by Chicago's fourth line of Shaw, Panik and Andrew Desjardins. Dubnyk made a point-blank save on Desjardins with 3:08 left to keep it scoreless.
Minnesota jumped out to a 2-0 lead early in the second on goals by Haula and Niederreiter.
Haula opened the scoring at 50 seconds on a shot from between the circles after taking Justin Fontaine's deflected centering pass.
Niederreiter outmuscled Chicago's Marian Hossa and wrapped in a rebound of Jordan Schroeder's shot at 7:04, just 9 seconds after Chicago killed Hossa's tripping penalty.
Shaw cut it to 2-1 just 1:34 later following a nice move as he drove into the slot from the right boards. Shaw's shot squeezed between Dubnyk's right arm and torso, and trickled into the net.
Capping another buzzing shift by his line, Panik tied it at 2 all with 6:39 left in the second on a wraparound shot from the right side of the net that banked in off Dubnyk's left skate.
"We should have kept stepping on the gas pedal and taken it home earlier," Niederreiter said.
Minnesota outshot Chicago 15-7 in the scoreless third.
Darling robbed Parise on two point-blank chances during a Wild power play early in the third to maintain the tie. He then stopped Haula with a close-in glove save at 8:25.
Chicago killed a goalie interference penalty to Artem Anisimov in overtime by blocking four shots — and getting lucky when Parise fired a shot off the side of a wide open net with Darling down and out of position.
NOTES: Minnesota LW Thomas Vanek, who has 18 goals and 23 assists and entered fourth on team in points, was a healthy scratch for second straight game. Vanek hasn't scored since Feb. 25, a stretch of 10 contests. ... Chicago C Marcus Kruger, out since Dec. 17 with a wrist injury, has resumed skating and is expected to accompany the Blackhawks on four-game road trip that starts Saturday in Calgary. ... Injured Wild players were F Jason Pominville (lower-body), who missed his sixth game, and G Darcy Kuemper (upper-body), who sat out his second. Dubnyk was backed up by Steve Michalek. ... Darling was backed up by Michael Leighton, who lost to Blackhawks in the 2010 Stanley Cup finals when was in goal for Philadelphia.