Cubs SS Russell placed on leave before loss to White Sox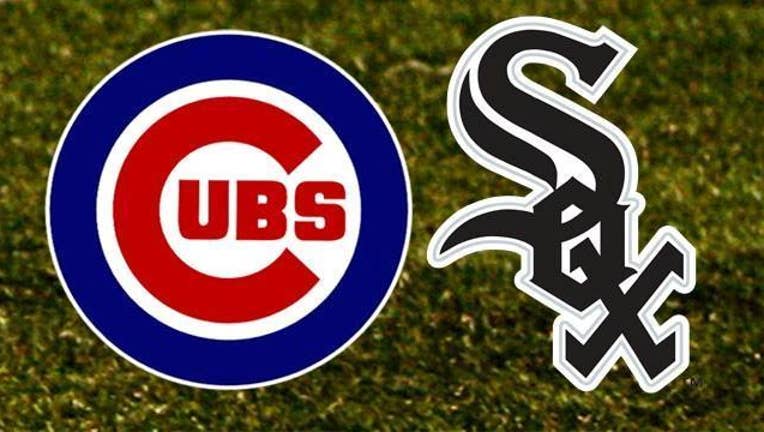 article
CHICAGO (AP) - The Chicago Cubs announced Friday that shortstop Addison Russell had been placed on administrative leave after he was accused of domestic violence by his ex-wife.
Then Jose Quintana struggled against his former team.
The Cubs dropped their second straight game when Quintana was tagged for a three-run homer by Kevan Smith, sending the crosstown White Sox to a 10-4 victory.
Russell was placed on leave by Major League Baseball after a blog post attributed to Melisa Reidy contained detailed allegations of years of physical and emotional abuse. The 24-year-old Russell can challenge the leave before an arbitrator, and the leave can be extended for additional seven-day periods if the players' union agrees. He continues to be paid his $3.2 million salary.
"It's unfortunate, but we've got to wait until the hearing and the investigation's done," teammate Kyle Schwarber said. "We don't have, I guess, all the facts, so we have to wait until that wraps up.
"It's something that's not ideal, but we're going to have to move forward from this and be able to focus on baseball."
Last year, Reidy posted a photo on her Instagram account with a caption suggesting her husband of about 18 months had been unfaithful to her. In another post, a user - described by Melisa as a close friend - made the accusation that Russell had "hit" his wife. The post was later deleted. Russell denied the allegation and the two divorced.
"These allegations are completely false," Russell said in a statement put out by the union. "I made that clear to Major League Baseball last year and reiterated it to the Cubs today. I'm confident any full and fair investigation will fully exonerate me."
The Cubs began the day with a 2 1/2-game lead over second-place Milwaukee in the NL Central.
The White Sox finished with 19 hits. Daniel Palka also homered, and Ryan LaMarre went 3 for 3 with three RBIs.
White Sox right-hander Reynaldo Lopez (7-9) struck out eight while pitching seven innings of one-run ball. He improved to 3-0 with a sparkling 0.79 ERA in his last five outings.
"I did what I usually do - execute my pitches keep hitters off balance and try to attack the strike zone," Lopez said through a translator. "It was a very good outing today."
Quintana (13-11) was charged with five runs and nine hits in five-plus innings. The left-hander had been pitching well, going 3-1 with a 2.10 ERA over his previous six starts.
"I pushed the margin trying to put on a better show for the fans today," said Quintana, who made his first start at Guaranteed Rate Field since the White Sox traded him to the Cubs in July 2017. "But every time we go to the mound, we try to do our best.
"For now, we're still in first place and tomorrow is a new day."
Daniel Murphy led off the game with his 12th homer, but the White Sox went ahead to stay with three in the second. Matt Davidson and Welington Castillo singled before Smith hit a drive to center for his second of the year.
White Sox manager Rick Renteria sent Palka up to hit for Smith in the sixth, and he responded with a two-run shot for a 6-1 lead.
Castillo and Yoan Moncada also had three hits, helping the White Sox even their crosstown series with the Cubs at two games apiece.
Murphy had three hits and David Bote had two RBIs for the Cubs.
"Their pitcher was good," manager Joe Maddon said. "Give him some credit too. He's got good stuff.
"I think a big part of why we didn't look so good was him."
RUSSELL'S FUTURE
Cubs President of Baseball Operations Theo Epstein didn't want to speculate on Russell's future with the team.
Russell is batting .158 with one RBI in 18 games in September. Maddon said Russell was playing well defensively, but wouldn't speculate whether off-field issues were affecting him at the plate.
TRAINER'S ROOM
Cubs: Schwarber (lower back) returned to the lineup as the DH and went 0 for 4. He said he felt good, although his timing was off.
White Sox: INF Jose Abreu (right thigh infection) missed his fourth straight game. He was scheduled to be re-evaluated by doctors later on Friday. Abreu was treated for the condition, caused by an ingrown hair, at a Cleveland hospital on Tuesday. "I'm still a little sore, but I am feeling a little better," he said through a translator.
UP NEXT
Cubs LHP Jon Lester (16-6, 3.43 ERA) takes the mound against White Sox RHP Lucas Giolito (10-11, 5.77 ERA) on Saturday. Lester is 3-1 with a 2.08 ERA in his last five starts.
___
More AP MLB: https://apnews.com/tag/MLB and https://twitter.com/AP_Sports