DeBrincat's 2nd goal lifts Blackhawks past Blues in OT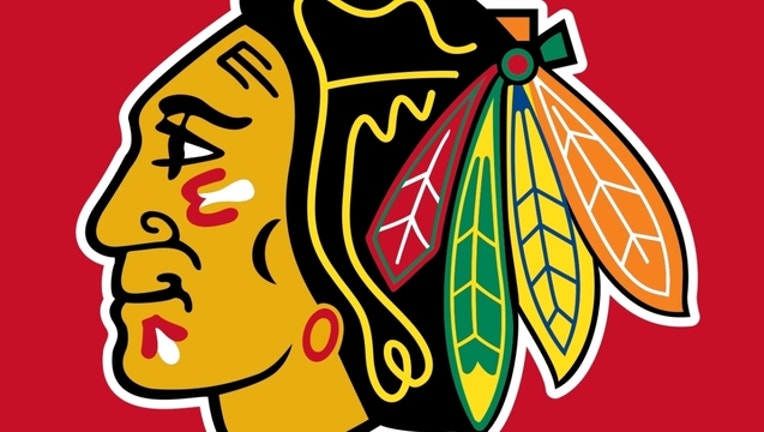 CHICAGO (AP) - As a junior hockey phenom, Alex DeBrincat grabbed the attention of scouts as a natural goal scorer who could get open and finish.
Now the 20-year-old Blackhawks forward is doing just that in the NHL.
DeBrincat scored his second goal of the game and sixth this season with nine seconds left in overtime to lift Chicago to a 4-3 victory over the St. Louis Blues on Saturday night.
Set up by Erik Gustafsson's pass across the crease, DeBrincat tapped the game-winner past Jake Allen from the right edge of the net after Patrick Kane, and then Artem Ansimov, controlled the puck deep in the St. Louis zone.
"Everyone's making great plays, even on that last one," DeBrincat said. "(Gustafsson) made a great pass backdoor to me."
DeBrincat, Chicago's emerging second-year star, also connected with 6:54 left in regulation to tie the game at 3. Open in the slot, he converted a centering pass from linemate Jonathan Toews after the Blues scored three straight goals to take the lead.
"I'm getting pretty lucky right now," DeBrincat said. "Playing with Toews and (Dominik) Kahun, they're making great plays and getting me the puck."
Coach Joel Quenneville says more than luck is involved for DeBrincat.
"He can do a lot of amazing things," Quenneville said "He's got a great stick as well defensively, tremendous hands, great release - whether it's the reception of the shot how he releases or where he releases it from."
Anisimov scored his first goal and Kane added his fifth in the first period for the Blackhawks (3-0-2), who have skated into overtime in each of their first five games this season.
Brayden Schenn notched his first two goals this season as the Blues (1-1-2) rallied from an early two-goal deficit. David Perron also connected for St. Louis.
Chicago's Cam Ward made 35 saves in his fifth straight start as the Blackhawks await the return of Corey Crawford, out since last December with a concussion.
Allen, who blocked 46 shots, was one the few players Blues coach Mike Yeo would praise.
"He was the reason we battled back in the game and it's disappointing not to get that second point for him," Yeo said.
Yeo said his players weren't bearing down to limit Chicago's scoring chances.
"That's a rough way to play the game because it's just back-and-forth hockey," he said.
Chicago's two big-name defensemen, Duncan Keith and Brent Seabrook, reached milestones.
Keith played his 1,000th game, all with Chicago, and was recognized by the team in a pregame ceremony. Joined by his family, the four-time All-Star received a silver stick and painting.
The 35-year-old Keith, who joined Chicago in 2005, has two Norris Trophies as the NHL's best defenseman and led the Blackhawks in minutes played when they won Stanley Cups in 2010, 2013 and 2015.
"I still have fun and enjoy it and I feel like I still have lots to do," Keith said.
Seabrook, Keith's frequent blue line partner, skated in his 1,008th game with Chicago to set a franchise record for most games by a defenseman. He passed Bob Murray, now the Anaheim Ducks general manager.
Aided by three power plays, the Blackhawks dominated the first period. Chicago outshot the Blues 23-11 and led 2-0 after 20 minutes.
Anisimov opened the scoring 11:51 in, converting a rebound of Brandon Saad's shot as an interference penalty to Jay Bouwmeester expired. Kane's power-play goal with 3:59 left in the first made it 2-0.
After Allen denied Toews on a stuff-in, Kane picked up the rebound and drifted across the slot. With Allen down - and defenseman Colton Parayko and forward Ivan Barbashev also in the crease - Kane fired the puck in.
Four straight manpower advantages in the second and third helped the Blues bounce back.
Schenn, who led the Blues with 70 points last season, scored on screened shot at 12:35 of the second with during a delayed penalty call to cut it to 2-1.
The Blues took a 3-2 lead with power-play goals 3:03 apart on consecutive shots early in the third.
Perron tied it at 2 at 1:44 of the period, capitalizing on Ward's botched handling of a dump-in.
Schenn gave the Blues their first lead at 3-2 at 4:47 when he beat Ward between the pads from the right circle.
After DeBrincat score to force overtime, Ward made a stick save to stop Schenn on a breakaway 1:10 into the extra period.
NOTES: Keith and Seabrook are the only active teammates to have played in 1,000 NHL games. They both made their NHL debuts on Oct. 5, 2005, against Anaheim. ... Keith, almost certainly a future Hockey Hall of Famer, won the Conn Smythe Trophy as playoff MVP in 2015 after he scored the game-winning goal in a deciding Game 6 of the Stanley Cup Final against Tampa Bay. ... Two brothers, 22-year-old Blackhawks C Nick Schmaltz and 25-year-old Blues D Jordan Schmaltz, met for the first time in the NHL. ... St. Louis C Jaden Schwartz sat out with an injured right leg, suffered Thursday against Calgary. . Chicago's LW Andreas Martensen (back) missed his third game.
UP NEXT:
Blues: Play Anaheim on Sunday in St. Louis
Blackhawks: Host Arizona on Thursday.