Derrick Rose to have knee surgery again, miss rest of season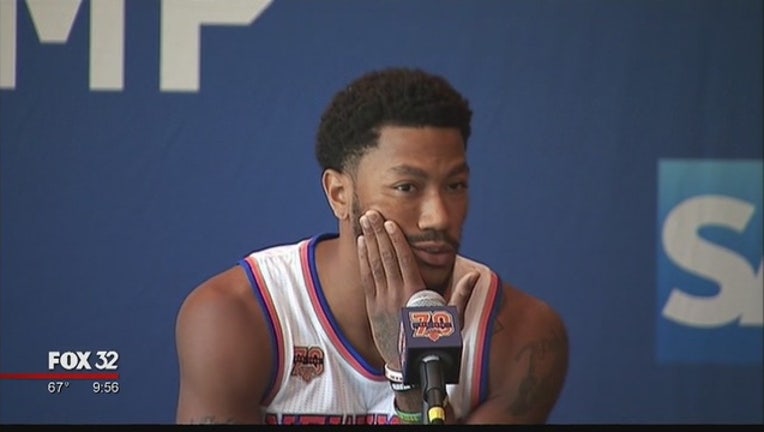 article
NEW YORK (AP) - Derrick Rose's season is over early because of knee surgery again.
The New York Knicks guard has torn cartilage in his left knee and the team said he will miss the remaining five games.
"It's tough for Derrick. He's played hard all year," coach Jeff Hornacek said. "I didn't hear the real report on it. He'll get that taken care of and probably be back. But he's worked hard (over) the last summer with yoga, those kind of things, to get his body in great shape. Feel bad for him."
It was a surprising but all too familiar ending to Rose's first season in New York. He sat out his third straight game Sunday against Boston, but the Knicks initially reported the injury was just soreness and swelling, with Hornacek saying before the game that he believed Rose could play again this season.
Instead, Rose will go into free agency coming off arthroscopic surgery.
"That's a quick-healing injury. It could have been worse. You can look at it that way," teammate Courtney Lee said. "But I feel for him and I am going to shoot out a lot of prayers for him and for a speedy recovery."
Rose tore his left ACL in the 2012 playoffs and missed the entire next season. He made it through just 10 games in 2013-14 before he was sidelined by a torn meniscus in his right knee and missed 20 more games the following season because of trouble with the same knee.
Rose played in 66 games last season for Chicago, his most since his 2011 MVP season, and the Knicks took a chance on his health by acquiring him on the eve of the NBA draft in June. Rose, who didn't have to rehab last summer for a change, appeared to have regained much of his quickness this season while playing in 64 games and averaging 18 points.
But his contract expires after this season and teams will have to decide if Rose is worth another big deal given his injury history.
He was no guarantee to return to the Knicks anyway, given their preference to stick with the triangle offense in which Rose isn't completely comfortable. But he said he liked New York despite the team's disappointing season and was playing well down the stretch, scoring 24 points against San Antonio and 27 against Detroit in his last two games.
"I thought he's played well. The explosiveness that you saw years ago, you saw that (again)," Hornacek said. "Again, the way the season has gone, to have something like that happen towards the end is a bad break for us."