Kane, Panarin lead Blackhawks past Islanders 4-1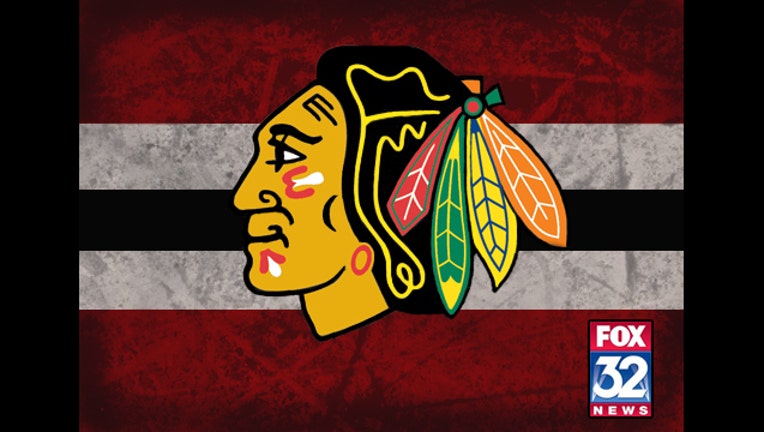 article
CHICAGO (AP) — The second line for the Chicago Blackhawks is off to a fast start.
Patrick Kane and rookie Artemi Panarin each had a goal and two assists, and the Blackhawks beat the New York Islanders 4-1 on Saturday night.
Defenseman Trevor van Riemsdyk added his first career NHL goal as the Blackhawks cruised to their first home win of the season. Chicago also beat New York 3-2 in overtime on Friday night, spoiling the Islanders' Brooklyn debut.
Coach Joel Quenneville put Panarin, Artem Anisimov and Kane together for the Blackhawks' final preseason game and has been delighted with the results so far.
"The one line was pretty amazing to watch tonight," Quenneville said. "Call it Artie's line. Very effective."
The 6-foot-4 Anisimov was acquired in the June 30 trade that sent Brandon Saad to Columbus. He scored his first goal with Chicago in Friday night's road win.
"Oh man, it's something special," van Riemsdyk said. "Kaner and his skill set, he's one of the most skilled guys in the world. And Panarin and Artie, they're unbelievable.
"They just know where the other one is going to be and they can put the puck wherever they want. It looks like they've been playing together a real long time."
Kane, who has three goals and three assists in Chicago's first three games, is the subject of a sexual assault investigation in western New York. He hasn't been charged, and has said he expects to be exonerated.
Scott Darling made 28 saves for the reigning Stanley Cup champions in his first start of the season. He was working on a shutout before Cal Clutterbuck got a short-handed goal with 1:05 left in the third.
Kane, who had two goals in the victory at New York on Friday night, assisted on van Riemsdyk's opening score in the first period, and set up Panarin at 5:53 of the second. Kane then tipped a pass from van Riemsdyk by Islanders goalie Jean-Francois Berube for a 3-0 lead.
Chicago defenseman Brent Seabrook added a 5-on-3 power-play goal late in the third period. It was his first of the season.
Berube had 30 stops for New York in his NHL debut. No. 1 goalie Jaroslav Halak remains out with an upper-body injury, and the 24-year-old Berube was claimed off waivers from the Kings last Tuesday.
"I was maybe a little too excited at the beginning, a couple of rebounds went away from me," Berube said. "For sure I would have liked to have had the win for the guys but I'll watch the tape and get better.
"I know it's a different level, but I have total confidence in my skills and know I can play at this level."
Darling, from suburban Lemont, Illinois, got the start after No. 1 goalie Corey Crawford played in each of the Blackhawks' first two games.
Chicago jumped in front when van Riemsdyk glided down the slot and backhanded in a loose puck at 4:07 of the first. Kane set up the chance with a wrist shot from just inside the blue line.
And there was no question about this goal for van Riemsdyk.
It looked as if the defenseman had his first NHL goal last season in a 5-2 win over San Jose on Nov. 9, 2014. But the league ruled the next day that van Riemsdyk's slap shot had been deflected in by teammate Kris Versteeg.
The Islanders showed last season they have ample scoring punch, but coach Jack Capuano was baffled that it disappeared on Saturday.
"We shot puck early, we were grinding it out and all of a sudden we got away from it and turned pucks over," Capuano said. "We can play better offensively."
NOTES: Berube was drafted 95th overall by the Kings in 2009. ... After a solid start as a rookie last year, van Riemsdyk's left kneecap was shattered on Nov. 16. He returned for four games of the Stanley Cup Final. ... In addition to Halak, F Steve Bernier and rookie D Ryan Pulock were scratches for the Islanders. ... D David Rundblad and RW Kyle Baun sat out again for the Blackhawks.