Kevin Warren to become Chicago Bears next president
CHICAGO - The Chicago Bears have named Big Ten commissioner Kevin Warren their new president and CEO.
Warren, 59, will replace Ted Phillips who announced his retirement in September after serving 23 years in the role. Phillips is only the fourth president in Bears history — and the first that wasn't related to founder George Halas.
"Kevin is a man of integrity, respect and excellence, all of which are critical core values of the Chicago Bears, and we welcome his perspective and diverse thought to lead this storied organization," Bears Chairman George H. McCaskey said in a statement. "He is a proven leader who has many times stepped outside of his comfort zone to challenge status quo for unconventional growth and prosperity. In this role, Warren will serve in the primary leadership position of the franchise to help bring the next Super Bowl championship trophy home to Bears fans."
Before joining the Big Ten in 2019, Warren served as the Vikings' chief operating officer when they built U.S. Bank Stadium. Some inside Halas Hall consider the Vikings' stadium to be the ideal blueprint for a possible new stadium in Arlington Heights.
SUBSCRIBE TO FOX 32 ON YOUTUBE
The Bears are in escrow on the 326-acre former Arlington International Racecourse property and hope to close on it in early 2023, right around the time Phillips' tenure ends on Feb. 28. They want to build a stadium on the land, alongside hotels, restaurants and shops.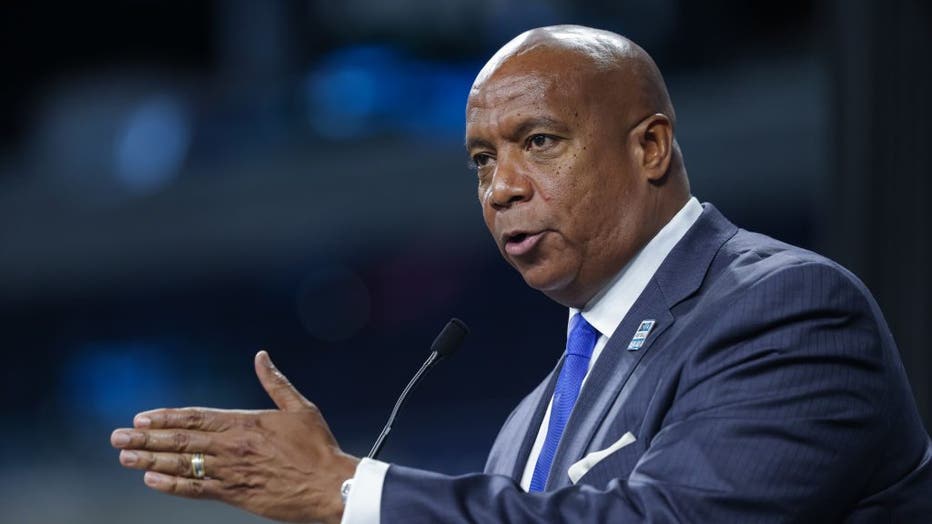 INDIANAPOLIS, IN - JULY 26: Big Ten Commissioner Kevin Warren speaks during the 2022 Big Ten Conference Football Media Days at Lucas Oil Stadium on July 26, 2022 in Indianapolis, Indiana. (Photo by Michael Hickey/Getty Images)
Warren — the first African-American to be named a Power Five college commissioner — postponed the 2020 Big Ten football season because of the coronavirus. He faced pushback from, among others, then-Ohio State star Justin Fields, who is now the Bears' quarterback. Fields started a petition to reinstate football and other fall sports. A month later, the Big Ten did just that.
In June, Warren led a paradigm-shifting expansion of the league. UCLA and USC will leave the Pac-12 for the Big Ten, which is based in Rosemont, in 2024.
A 1990 Notre Dame Law School graduate, Warren served as an agent — his first client was former Bears defensive tackle Chris Zorich — before joining the St. Louis Rams as legal counsel in 1997. He was named the Lions' senior vice president of business operations and general counsel in 2001. In 2005, after a two-year stint with a law firm, he joined the Vikings, where he stayed for 14 years. He was named COO in 2015.
He also is joining an organization with the No. 1 pick in the draft following one of the worst seasons in franchise history. The Bears went 3-14 and set a franchise record for losses.
"I am honored and recognize the responsibility bestowed upon me to lead the Chicago Bears during this exciting and pivotal time for the franchise," Warren said in a statement. "I join the Chicago Bears with gratitude and drive to carry out and build upon the legacy and spirit of this founding franchise and my predecessors."
It wasn't immediately clear how the team's chain of command would be structured. General manager Ryan Poles, who was hired a year ago, currently reports directly to McCaskey. Previous GMs reported to Phillips.
Poles said he looks forward to working with Warren.
"In my time spent with him during the interview process, it quickly became apparent his resume and business acumen will be a powerful asset to helping improve our organization and ultimately reach our goal to be a championship organization," he said.
Warren had spoken with several professional teams going through transitions at the top, including the Denver Broncos, Phoenix Suns and Minnesota Timberwolves during his tenure as Big Ten commissioner, a person familiar with the situation told The Associated Press on Dec. 29.
The Associated Press and the Sun-Times Media Wire contributed to this report.