LeBron to wear Cubs uniform after losing World Series bet to Wade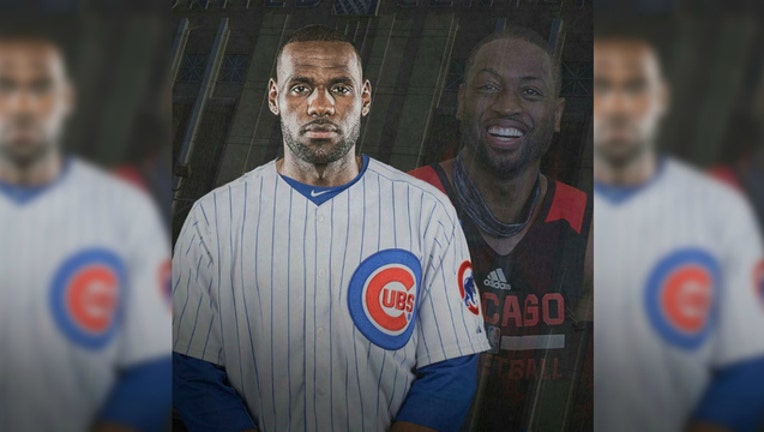 article
CLEVELAND (AP) — LeBron James will be Mr. Cub for a little while.
To pay off a bet on the World Series he lost to close friend Dwyane Wade, James will wear a Cubs cap, jersey, pants and socks to Friday's game in Chicago before the Cavaliers play the Bulls.
James made a friendly wager on the Series between the Cleveland Indians and Cubs with Wade, his former Miami teammate and Chicago native who returned to play in his hometown this season. The Indians lost in seven games as the Cubs rallied from a 3-1 deficit to win their first championship since 1908.
"I'm not wearing cleats," James said Thursday after the Cavs' morning shoot-around. "I got a basketball game to play. No glove. Just the uniform. I will be in uniform."
And that will be quite a sight as the 6-foot-8, 250-pound James isn't built like any baseball player.
"It's a bet," he said. "You have to fulfill your bet. Nothing more to it."
It's a bit easier to make good on his bet since he led the Cavs to the NBA title in June, ending Cleveland's 52-year championship drought.
Wade posted a video to his Instagram account Friday trolling James ahead of the game.
In the 40-second video, Wade narrates as a claymation version of James walks the catwalk in a Cubs jersey.
"Look at this guy Lebron James. Look how he comes in. He is coming in with an all white, dark blue pin-stripe Cubs uniform on. And look how he wear it, with a dark blue shirt underneath, the dark blue hat and look at the socks people, let's not forget the socks," Wade says. "I would think he lost a bet. Me oh my."
James and Wade played together for four seasons in Miami, leading the Heat to two titles and four straight Finals appearances. James said it will be different to see Wade, who signed with Chicago as a free agent last summer, in another jersey.
"It's going to be pretty cool, not only just because he's in a different uniform but just him being back home and understanding what his journey is right now," James said. "I think it's more than just basketball for himself, being back home in Chicago."