NBA bans Joakim Noah 20 games for drug violation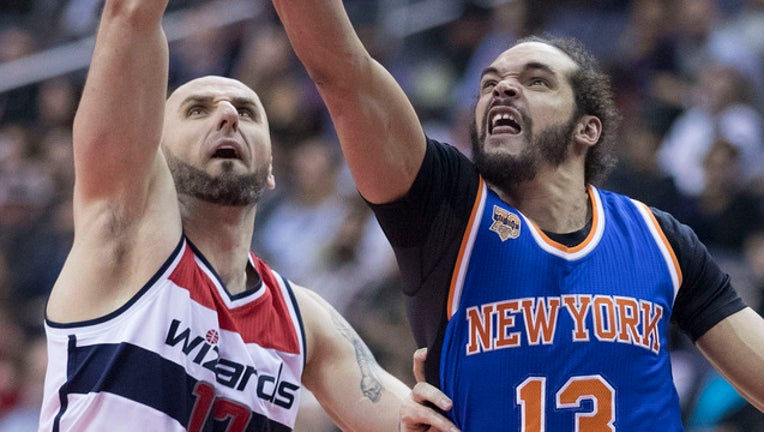 Joakim Noah of the New York Knicks was suspended 20 games without pay for violating the league's anti-drug policy.
He tested positive for a substance found in some over-the-counter supplements, the league said Saturday.
Noah has not played since Feb. 4 and likely was to miss the Knicks' final 10 games this season because of a left knee injury. The NBA said Noah's suspension will begin with the first regular-season or playoff game for which he is "eligible and physically able to play."
At minimum, that means the suspension will carry over into at least the first 10 games of next season and likely longer, since Noah is not currently able to play.
The players' union believes the 6-foot-11 player made an unintentional mistake.
"Joakim was completely forthcoming and cooperative throughout the investigation and we believe that this isolated occurrence was a regrettable mistake," the union statement said. "Joakim has offered his deepest apologies for this infraction, and neither he nor the NBPA will pursue an appeal."
The league cited Noah for Selective Androgen Receptor Modulator LGD-4033. The U.S. Anti-Doping Agency has said that the substance, known as SARMs, has "similar properties to anabolic agents, but ... the lack of steroid-related side effects."
The World Anti-Doping Agency has SARMs on its prohibited at-all-times list. USADA has issued warnings in the past that products containing the illegal compound are "being sold illegally as dietary supplements."
Noah is in the first year of a four-year, $72 million contract. He averaged 5.0 points and 8.7 rebounds in 46 games this season, and has been limited to 75 games over the last two seasons.
Knicks coach Jeff Hornacek told reporters in San Antonio on Saturday that he hopes Noah can be medically cleared by the end of this season so the suspension can begin.
The Knicks play in San Antonio on Saturday night, and began the day eight games back of the final playoff spot in the Eastern Conference.