Stuck out! Ball clings to Molina, Cubs rally past Cardinals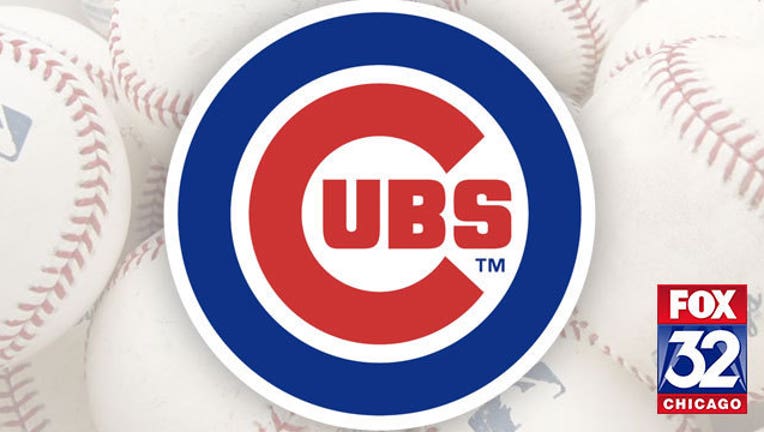 article
ST. LOUIS (AP) - Cardinals catcher Yadier Molina and most everyone else at Busch Stadium laughed at the bizarre sight - a ball somehow stuck to his chest protector , in plain view of everybody except him.
But the St. Louis star didn't think it was so funny when asked if a foreign substance helped the thing cling.
"Did I put anything on my chest protector to stick?" Molina said. "That's a dumb question."
Whatever happened, it sure made for strange situation at Busch Stadium. And it was the key play that sent the Chicago Cubs past St. Louis 6-4 Thursday.
The Cardinals led 4-2 in the seventh inning when things turned kooky.
Pinch hitter Matt Szczur led off by striking out on a pitch from Brett Cecil that skipped in the dirt. The ball bounced into Molina's protector and smack, it stayed there.
"I don't know if they've come out with Velcro on the protectors or it's just a fuzzy baseball," Cubs manager Joe Maddon said. "It was definitely Velcro-ed to his chest."
As Molina frantically looked for the ball, Szczur headed toward first base.
"I just took off running," Szczur said. "My first base coach told me it was stuck to his stomach. I thought, 'What?'"
By the time Molina looked down and discovered the ball, it was too late, Szczur was safe. The Gold Glove catcher could only smile and fans in sellout crowd roared - really, who'd ever seen such a thing?
"I haven't seen that one before," Cardinals manager Mike Matheny said. "I have no idea what happened there."
Catchers sometimes put pine tar somewhere on their uniforms, often around the shin guards, to help give them a better grip.
Molina was certain about one thing.
"That play changed everything," he said. "If we get that first out, everything changes."
Once Szczur reached on what was scored as a wild pitch, the Cardinals lost their grip on this game.
After a walk, Kyle Schwarber hit a go-ahead, three-run homer. The Cubs added another run later in the inning against Cecil (0-1).
Schwarber, who injured his knee in an outfield collision in the third game last year and missed the rest of the regular season, enjoyed the big hit.
"We celebrated, I made it past the third game this year," Schwarber said. "I turned the horseshoe around. I turned it up so I could make it through."
The World Series champions won two in a row after losing to the Cards on opening night.
John Lackey (1-0) threw six solid innings against his former team and new Cubs closer Wade Davis got his second save.
Addison Russell drove in a pair of runs on groundouts for Chicago.
St. Louis starter Lance Lynn went 5 1-3 innings in his first appearance since Oct. 2, 2015. The right-hander, who'd been out since having Tommy John surgery, gave up two runs and five hits.
SLUMP
NL MVP Kris Bryant went 0 for 4 and struck out twice. He also walked and scored a run. The Cubs slugger is 0 for 13 this season.
TRAINER'S ROOM
Cubs: LHP Brian Duensing remains on the 10-day disabled list with back spasms. He is eligible to come off on Sunday.
Cardinals: OF Stephen Piscotty did not start, but came into the game as a defensive replacement in the sixth inning. Piscotty was hit in the head by a throw from INF Javier Baez while sliding into the plate in a 2-1 loss on Tuesday.
UP NEXT
Cubs: LHP Brett Anderson will face Milwaukee RHP Jimmy Nelson in the first of a three-game set in Milwaukee on Friday. Anderson will be making his Cubs debut after eight seasons with Oakland (2009-2013), Colorado (2014) and the Los Angeles Dodgers (2015-16)
Cardinals: RHP Mike Leake will face Cincinnati LHP Amir Garrett when St. Louis concludes its season-opening homestand with the first of a three games on Friday. Leake has won 10 or more games in four of the last six seasons.