Tradition & attrition: Bears, Packers slog it out at Lambeau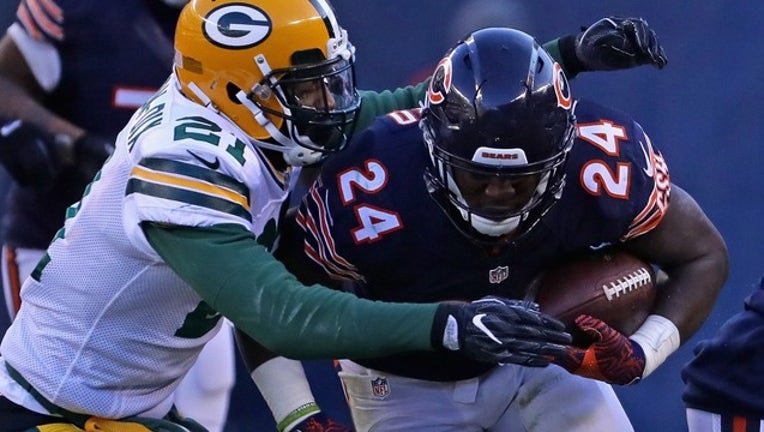 article
MILWAUKEE (AP) - Another week, another round of injuries for the Green Bay Packers.
This week has been especially unkind for coach Mike McCarthy's offensive line, with a short turnaround from an overtime game on Sunday to face the Chicago Bears on Thursday night at Lambeau Field.
Don't look for sympathy from Bears coach John Fox. He is already down three defensive starters less than a month into the season, and the Bears are also coming off an overtime win.
"Nobody is going to come rescue us," Fox said. "I think we're playing a game Thursday night, so we'll do our best to get ready for it."
The latest installment of the NFL's oldest rivalry is a meeting between teams trying to make it to the long weekend off that follows a Thursday game without anyone else getting hurt.
By numbers alone, the Packers have had it worse, especially on the O-line. Tackles David Bakhtiari (hamstring) and Bryan Bulaga (ankle) are on the injury report again, listed as doubtful for Thursday. Kyle Murphy went on injured reserve this week, joining two other backup tackles knocked out by injuries.
Ten players are on the injury report, not including two this week placed on injured reserve. The Packers do expect receiver Randall Cobb to return Thursday from a chest injury.
"The No. 1 goal for our football team as far as preparing for this game is for everybody to get their bodies back," McCarthy said.
The Packers have a great equalizer in quarterback Aaron Rodgers. They're never out of a game at home as long as he's healthy, such as when Green Bay came back from a 14-point halftime deficit last week to beat the Bengals 27-24 in overtime.
"Part of the puzzle is keeping our QB upright and that's the most important thing," Packers offensive coordinator Edgar Bennett said.
Chicago lost safety Quintin Demps to a broken arm last week. The Bears have also lost linebacker Jerrell Freeman and Freeman's replacement, Nick Kwiatkoski, to pectoral injuries.
The win over the Steelers does offer a confidence boost in a short week after holding Pittsburgh to 282 yards.
"I know they've had their share of injuries as well across the board," Fox said. "On the short week, obviously it's a challenge for both sides. But it starts with Aaron and he always makes things interesting."
Other notes and takeaways ahead of the 195th meeting in the series:
BEARS QB: Mike Glennon's performance hasn't quieted the calls from Bears fans to see No. 2 overall pick Mitchell Trubisky at quarterback. The Bears aren't throwing deep, and an injury-depleted receiving group isn't getting targets. The Packers are playing better against the pass this season, ranked seventh in the league.
"Whatever it takes to win. Each week is going to be different with what we have to do," Glennon said.
RUN IT UP: Handing the ball off to Jordan Howard might be a good start.
He ran for 138 yards and two scores, including the winning, 19-yard touchdown in overtime against Pittsburgh. And Howard did it with a right shoulder that has been sore since the opener. Green Bay, which has employed safeties in inside linebacker roles on defense this season to add athleticism, is 21st against the run.
PACK PASS RUSH: A pass rush that got two sacks from blitzing rookie safety Josh Jones last week could get a boost with the potential return of outside linebacker Nick Perry. He missed last week with a right hand injury. Perry, who was off to a good start with 1½ sacks, is listed as questionable. Clay Matthews will also get his second chance at setting the franchise sack record since 1982. Matthews is a half-sack behind Kabeer Gbaja-Biamila (74 1/2).
SERIES HISTORY: For the first time since 1932, the Packers have a chance to take a lead in a series tied at 94-94-6. McCarthy knows that's a big enough deal to the fans that he makes a presentation about the history and tradition of the series to his team during Bears week.
ANTHEM: Players, coaches and staff from the Packers plan to lock arms during the national anthem before Thursday night's game, and they are asking fans to do the same in what they say will be a "moment of unification."
"Guys wanted to know what we could do to be together so that guys aren't sitting alone and have to feel like they're not part of everything that's going on, because it affects us all," said tight end Martellus Bennett , who helped write a statement from players explaining the decision.