Trubisky praises Fox as Bears wind down rough season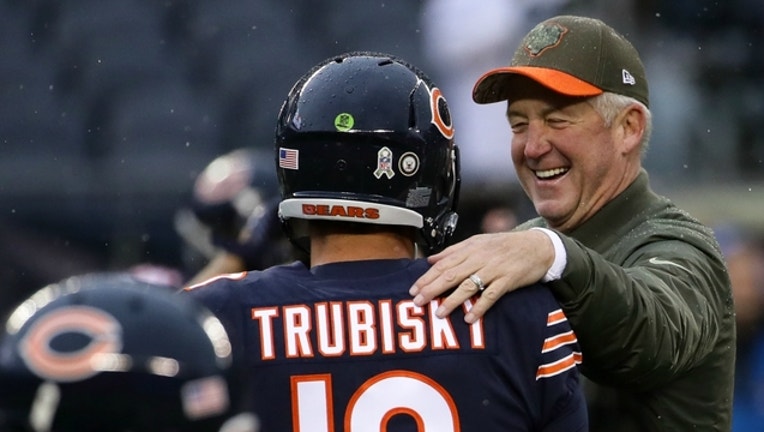 article
LAKE FOREST, Ill. (AP) - For all the criticism thrown his way, Chicago Bears coach John Fox has at least one important fan.
That would be quarterback Mitchell Trubisky.
The prized rookie said Monday they have a "great relationship" and praised the coach and his staff for showing the patience he needs as he adjusts to playing in the NFL.
"They just allow me to be who I am as a person, as a player," said Trubisky, the No. 2 overall draft pick. "They've been patient with me, allowed me to develop. And I think they just truly believe in me and what I can do for this football team moving forward. 
"Sometimes, it's tough having a rookie quarterback because you know there's gonna be mistakes and there's gonna be bumps in the road. But they've stuck by me and they know it's a learning process and they've taught me a lot throughout this whole year."
Fox said he has seen enough to believe Trubisky will be a successful NFL player, though they might not be working together much longer. With a 13-33 record over three seasons, there's a good chance Fox's time in Chicago is winding down.
The Bears (4-10) host winless Cleveland this week in their final home game, and even beating the Browns hardly seems like a certainty.
Chicago has dropped six of seven. An ugly loss to Detroit secured the Bears' fourth straight season with double-digit losses and wiped out the good feelings they generated with a lopsided win over Cincinnati the previous week.
The Bears committed 13 penalties and got little from their run game on Saturday. For Trubisky, it was a mixed performance at best.
His 31 completions, 46 attempts and 314 yards passing were all career highs. So were his three interceptions, and a 66.8 rating was a big drop from the 112.4 he posted the previous week.
"There was really a lot of good that Mitch did," Fox said. "You know I don't know that fans and everyday people that don't get a chance to study the tape and kind of know what he's been taught and told (think). Everybody looks at the box score they see the three picks. But it was probably, arguably, his best game."
The Bears turned to Trubisky after Mike Glennon struggled to hang onto the ball in the first four games. 
Signed to replace Jay Cutler, the veteran threw more interceptions (five) than touchdowns (four) and lost three fumbles.
That forced the Bears to make the switch and abandon their plan to have their highly touted rookie watch from the sideline this season. There have been promising signs and more than a few growing pains for Trubisky, and the Detroit game summed up his season.
Yet along with the mistakes, Fox insisted he saw growth in areas that might not stand out to fans.
He mentioned Trubisky's mechanics and decision-making as well as the fact that he recognized when teammates were out of place -- and got them into proper position. Fox said that might not have happened a few weeks ago.
Not that there weren't rough spots.
Trubisky rolling to his left on a play action and overthrowing Kendall Wright stood out. So did his attempt to hit Dontrelle Inman in double coverage in the end zone. Both passes got intercepted.
Even so, Trubisky said he sees progress in certain situations. And in others, room to improve.
"You could definitely see it in my footwork when I'm drifting when I don't need to or when my feet are calm and I'm moving through my progressions very smoothly," he said. 
"You can tell which plays it's slower and which plays it's not. I'm definitely progressing and you want to see the games continue to get slower for me."
Fox predicts big things for Trubisky. He just might not be around what that happens.
"I get to see it every day, not just game days like some people," Fox said. "(I) get to watch him, how he works, how he studies, the demeanor he has with his teammates. I think he's got a bright future ahead of him."