Warriors beat Bulls 119-112 for 14th straight road win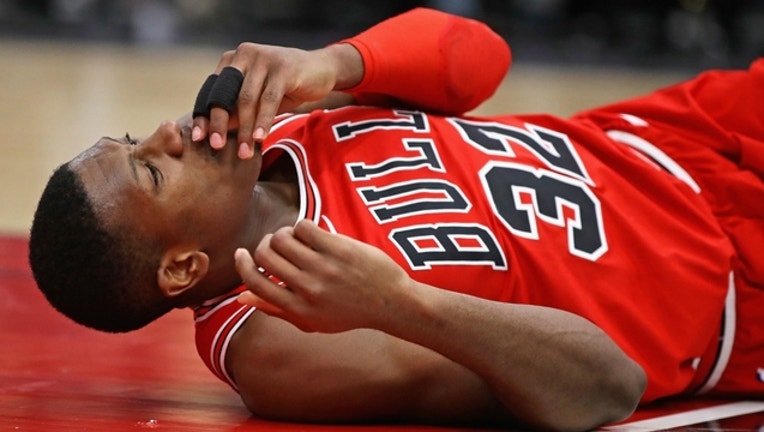 CHICAGO (AP) - When the Splash Brothers are making their shots, even Kevin Durant is content with a supporting role.
Such is life for the Golden State Warriors.
Klay Thompson scored 38 points, Stephen Curry added 30 and the Warriors beat the Chicago Bulls 119-112 on Wednesday night for their franchise record-tying 14th straight road win.
"It was an old-school Splash Brother game," coach Steve Kerr said.
The "Splash Brothers" nickname for Thompson and Curry has faded in prominence since Durant joined the duo before last season, but the sharpshooting guards can still put on a show. Thompson was 7 for 13 from 3-point range and Curry was 6 for 11 from behind the arc; no other player made a 3 for the Warriors.
"When they got it going like that, you just play your role and know your place, man," Durant said.
Durant had 19 points, eight rebounds and seven assists as Golden State moved into a tie for the third-longest road winning streak in a season in NBA history. The Los Angeles Lakers hold the record with 16 straight road wins during the 1971-72 season.
 
   Next up for the NBA-leading Warriors (37-9) is a prime-time showdown with Houston on Saturday in the finale of a five-game trip.
"It's going to be a very tough game Saturday, probably the toughest of the trip," Thompson said, "and if we could go undefeated on this road trip that would be incredible."
Nikola Mirotic scored 24 points for Chicago, which dropped to 14-8 since its 3-20 start. Robin Lopez scored 12 of his 16 points in the first half, and Kris Dunn also had 16.
"We played three quarters of really good basketball, but you take one off against a team like this, you're not going to win," coach Fred Hoiberg said.
The Warriors played without Draymond Green and Andre Iguodala due to injuries, and Jordan Bell sprained his left ankle when he challenged Lopez's dunk on the Bulls' first possession. Bell stayed down for a while and then was helped to his feet. He tried to put pressure on his leg and grimaced before he opted for a wheelchair ride off the court.
The 23-year-old Bell was selected by the Bulls in the second round of the June draft and then dealt to the Warriors for financial considerations. X-rays were negative, but he was using crutches and a walking boot after the win and will have an MRI on Thursday.
"It was definitely way worse than a normal sprain," Bell said. "Like I said, I thought I broke it."
Thompson and Curry led the way as Golden State outscored Chicago 32-12 in the third quarter to open a 95-78 lead. Curry made a tiebreaking 3-pointer with 9:23 left in the period, sparking a 19-0 run for the Warriors.
The Bulls made a late charge, closing to 112-107 on Dunn's fast-break dunk with 2:55 left. Dunn landed awkwardly on the play and his face slammed into the floor. He was being evaluated for a possible concussion after the loss.
The NBA champion Warriors responded with Thompson's driving layup and a three-point play for Durant. Thompson also made two foul shots with 17.4 seconds left to help Golden State secure the win.
LaVINE'S NIGHT
Bulls guard Zach LaVine had five points on 2-for-12 shooting in his third game of the season after recovering from left knee surgery. He has been on a minutes restriction, but the plan is to re-evaluate the situation at this point for possible extended action.
"We'll get together with the medical staff tomorrow and we'll map out a plan moving forward for the next week," Hoiberg said. "He feels great and I think had a great first three games for us." 
TIP-INS
Warriors: Green is dealing with right shoulder soreness, and Iguodala has a bruised left calf. ... F Omri Casspi played for the first time in a week after being sidelined by lower back soreness. Casspi was available for Golden State's win at Cleveland, but Kerr held him out. "I wasn't comfortable playing him yet, because he hadn't really played enough with that bad back," Kerr said. "I'm a little sensitive to bad backs. I wanted him to get a good workout (on Tuesday)."
Bulls: Hoiberg had lunch with Kerr after he got the job with Chicago. "I think the world of Steve," said Hoiberg, who is in his third season with the Bulls. "He's been great to me since I've been in the league." ... The Bulls lost 143-94 at Golden State in their first meeting of the season on Nov. 24.
UP NEXT
Warriors: Split their first two games this season against the Rockets, losing 122-121 at home on Oct. 17 and winning 124-114 at Houston on Jan. 4.
Bulls: Open a three-game trip Saturday at Atlanta. They also visit New Orleans and Philadelphia next week.