Yankees' Chapman: Cubs' Maddon misused me during postseason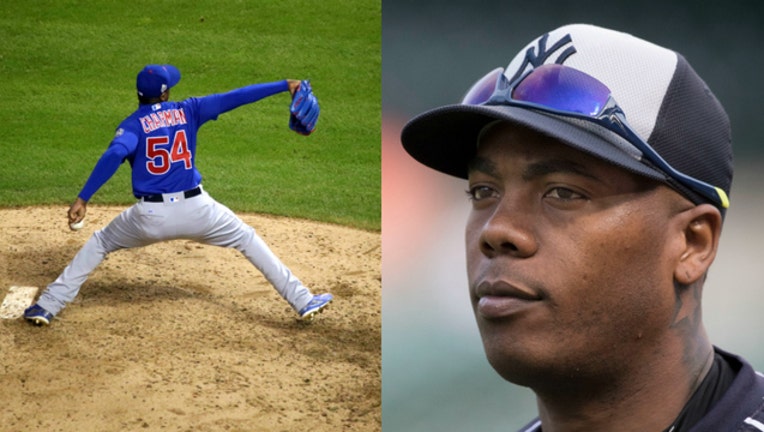 article
NEW YORK (AP) — Aroldis Chapman says Cubs manager Joe Maddon misused him during the postseason, putting the hard-throwing reliever on the mound too often in Chicago's successful effort to win the World Series for the first time since 1908.
Traded from the New York Yankees to Chicago in late July, Chapman got the victory in Game 7 against Cleveland after wasting an eighth-inning lead. He became a free agent and agreed to an $86 million, five-year contract to return to the Yankees, a deal finalized Thursday.
"I think he was wrong in the way he used me. He abused a little bit on how much he made me pitch, and sometimes he made me pitch when I didn't need to pitch," Chapman said Friday. "But he's the manager. He knows his stuff. He manages the way he knows, the way he wants and the way he wants to win. It was his decision, and my duty is to be prepared. I prepare myself to be strong, so that my arm is healthy. Thank God I was able to do the job, and I could pitch the way he wanted me to."
The left-hander from Cuba threw 273 pitches in 13 postseason appearances, including 42 over 2 2/3 innings in Game 5, when he got his first eight-out save in the Cubs' 3-2 win.
He threw 20 on one day's rest to get four outs in Game 6, then 35 more in Game 7 when he entered with a 6-3 lead and allowed Brandon Guyer's RBI double and Rajai Davis' two-run homer.
Asked for an example of misuse, Chapman cited Game 6, when he entered with a 7-2 lead in the bottom of the seventh with two on and two outs. Francisco Lindor hit a grounder to first and originally was called safe, a ruling reversed when a video review concluded Chapman beat him to the bag after catching Anthony Rizzo's throw.
Chapman stayed in to start the bottom of the ninth with Chicago ahead by seven runs, then was replaced by Pedro Strop after a leadoff walk.
"I don't think I needed to come into the game," Chapman said. "Looking forward, the important game was going to be Game 7 because basically we had that game almost won. Then I had to pitch on Game 7 and I was a little tired. I felt a little different. It's not the same. I could go out to pitch, do my job, but you're not as efficient if you're tired."
Maddon did not immediately respond to a message Friday seeking comment. Speaking before Game 7, he said: "Yesterday that was a really clear-cut decision for me how to work that inning. The threat there, was that had we not done it, then Aroldis would have had a more stressful 1 2/3 innings in the eighth or ninth inning."
Chapman also was pursued in free agency by the Miami Marlins, who made a back-loaded offer and do not offer no-trade provisions.
"The Marlins were close on signing me, but at the end my wish was to come back to the Yankees," he said. "I also wanted to be part of a young team, like the Yankees have now and not go to the Marlins because as you all know from time to time they change their team a lot, and I wanted to have a stable team of young players where I could feel at home."
Chapman, who turns 29 in February, was acquired by the Yankees from Cincinnati last December and was suspended for the first 29 games of the season under baseball's domestic violence policy stemming from an October 2015 disturbance involving his girlfriend. According to a police report, Cristina Barnea told police he pushed and choked her. Chapman said there was an argument and he was pushed down by Barnea's brother. Chapman said he eventually got a handgun and fired eight shots into a wall and window while locked in his garage.
Criminal charges were not filed.
"I was coming to this team with a problem, and the way they treated me, the way they welcomed me, the way that they helped me, starting from the manager, the staff, my teammates, they made me feel at home," Chapman said. "That kind of support, it's something that you need in a moment like that."
Chapman's fastball reached as high at 105 mph last season, when he went 4-1 with 36 saves in 39 chances for the Yankees and Cubs. He has 636 strikeouts in 377 innings and 182 saves in seven big league seasons.
Because of the domestic violence dispute, Chapman understands why some Yankees fans were disappointed New York brought him back.
"We are all humans. We make mistakes, and we move forward," he said. "I've done therapy over the years, and it has helped me to be a better person, and it pushes me to be a better person every day."
___
AP Sports Writer Ricardo Zuniga contributed to this report.