Chicago mayoral endorsements continue to roll in for Vallas, Johnson
CHICAGO - Chicago mayoral candidates Paul Vallas and Brandon Johnson secured more endorsements Monday two weeks ahead of the run-off election.
Vallas received an endorsement from the Latino Leadership Council, an organization is made up of civic, business and elected leaders.
Incoming chairman David Andalcio made the announcement Monday morning.
"Paul is no stranger to the Latino community. In fact, under Paul's leadership while with Chicago Public Schools, Paul prioritized minority contracting and employment. Paul has a long history of getting the job done," Andalcio said.
The council said, as head of CPS, Vallas opened the largest summer school program for early childhood and left with six straight years of improved academic performance.
Vallas' opponent Johnson also received support Monday.
Johnson joined Polish community leaders and elected officials to celebrate the legacy of a Polish revolutionary figure and to accept their endorsement.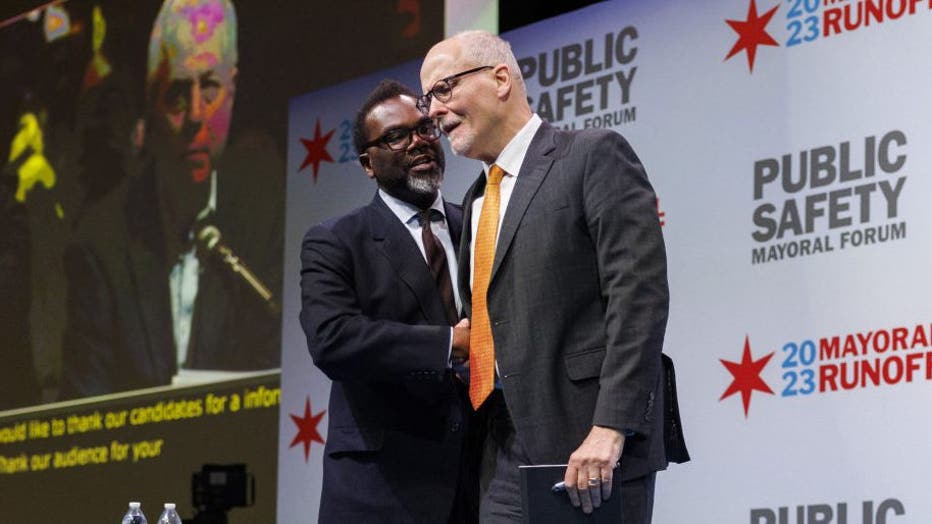 Chicago mayoral candidates Brandon Johnson and Paul Vallas shake hands after attending a public safety mayoral forum at the University of Illinois at Chicago Forum on March 14. (Armando L. Sanchez/Chicago Tribune/Tribune News Service via Getty Images
"Because no matter where you live in the city, you get to have a fully funded neighborhood school," Johnson said. "No matter where you live in the city, you have to have reliable and safe transportation. We have to make sure that environment and climate justice is a major part of our apparatus so that posterity can live in a climate that works for everyone."
Johnson also said that our diversity is our strength. 
Monday also marked first day Chicagoans could vote early ahead of the April 4th runoff election. Voting sites have opened their doors in all 50 wards. Click here for a full list.