11-year-old in custody in connection to Gary middle school shooting threat
GARY, Ind. - An 11-year-old is in custody in connection to a social media post that threatened a shooting at a Gary middle school.
According to the Lake County Sheriff's Department, a social media post threatened an active shooter scenario at 9 a.m. Monday at Lake Ridge New Tech Middle School.
The post included a photo of several assault rifles and named a teacher as a potential victim.
SUBSCRIBE TO FOX 32 ON YOUTUBE
The investigation into this threat led detectives to identify three juveniles, ages 11, 12 and 13, as potential suspects.
The 11-year-old is currently in custody at the Lake County Juvenile Detention Center, Lake County officials said.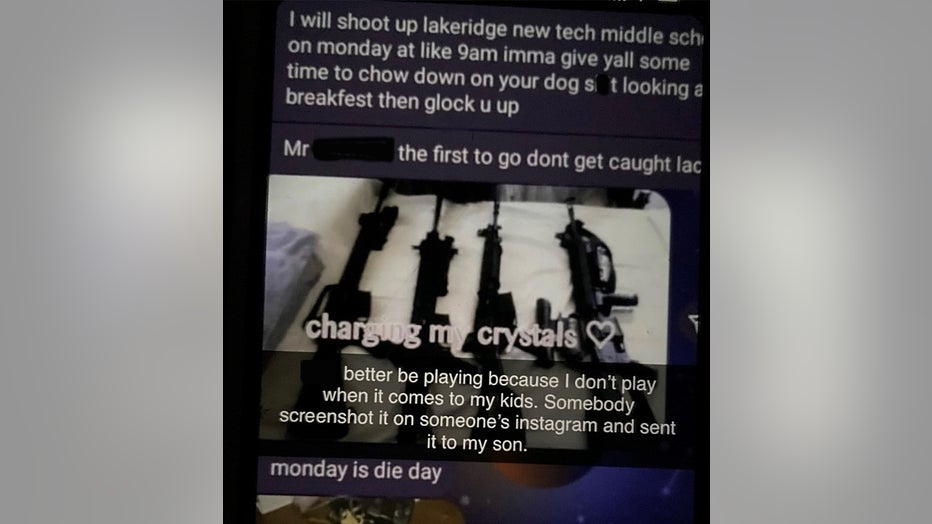 Threat posted against Gary middle school, 11-year-old charged | Lake County Sheriff's Department
Two of the juveniles will be charged with felony intimidation.
"Even if the posts turn out to be a hoax, we want to be clear that this type of suspicious behavior will not be tolerated in Lake County, Indiana. We have a dedicated team of analysts who specialize in electronic media investigations. To those who would attempt to threaten lives in Lake County and hide behind social media - we will identify you, we will find you and we will prosecute you," said Sheriff Oscar Martinez Jr.
The mother of the 11-year-old suspect has been arrested on an outstanding warrant for neglect of a dependent, Lake County officials said. Her name will not be released at this time to protect the identity of the child.