14-year-old boy dies days after being struck by vehicle outside Hinsdale sandwich shop
HINSDALE, Ill. - A 14-year-old boy has died days after being struck by a vehicle outside a popular Hinsdale sandwich shop.
Sean Richards died Thursday at Comer Children's Hospital. The family's priest, Fr. Burke Masters, spoke out about the tragedy on YouTube that evening.
The boy's family released a statement Friday morning asking for privacy and prayers. 
"We are devastated and will forever have a large hole in our hearts," the family said.
Around 2:36 p.m. Monday, Hinsdale police and fire department responded to a sub shop for a report of a car into the building. When authorities arrived at the scene, they learned a 14-year-old pedestrian outside the shop was struck by the car and critically injured.
The restaurant — identified as Fontano's Subs — is located at Chicago Ave. and Lincoln St., just north of the Burlington Northern train tracks.
The teenager, later identified as Sean Richards, was taken to Hinsdale Hospital and then later flown to Comer's Children Hospital in Chicago, police said.
Additionally, three people inside the restaurant were struck by the vehicle or debris from the accident. They were transported to Downers Grove Hospital in serious condition.
Another customer was treated at the scene and released.
SUBSCRIBE TO FOX 32 CHICAGO ON YOUTUBE
"I am at a loss for words," said Dominic Fontano, visibly shaken, as he rushed back to the horrific scene after a black Jeep crashed into his family's sandwich shop from Fuller's Car Wash.
Fontano recounted, "A young lady, teenage girl was underneath the car, and her male friend was pinned in the front of the car and the back wall. Then there was an older gentleman sitting against the wall, hit with the bricks and debris."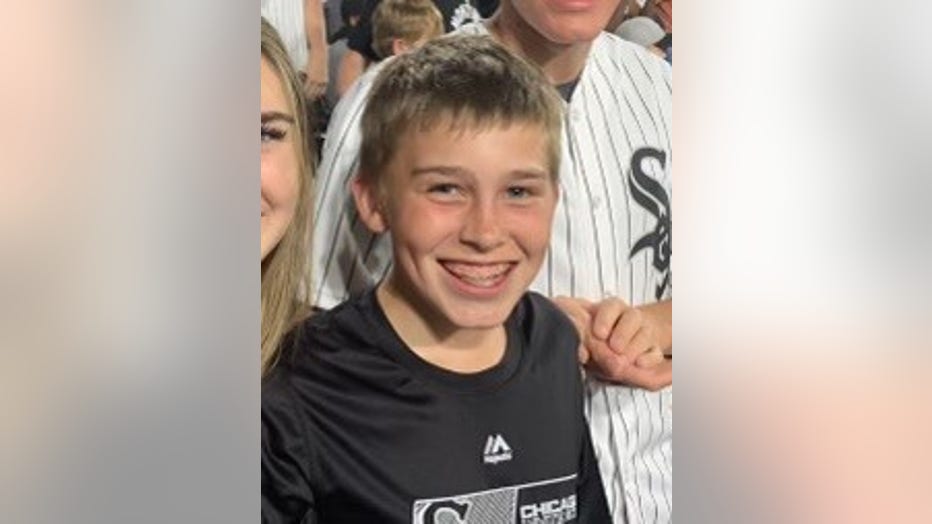 Sean Richards died after he was struck by a car in Hinsdale on July 17. (Photo Provided)
He continued, "A little boy was on that side of the street and was hit by the car, and the car carried him over to this side, and he's the one that everyone is praying for."
It is believed that the Jeep left Fuller's Car Wash, and from there, it kept going and stopped in the dining room area of the restaurant. The driver did try to help but was dazed.
"He got out of the car and was dazed, he turned around to see what he could do to help," Fontano said.
According to a source with the village, this is the third time a Jeep has lost control exiting the car wash, with the first incident dating back to the early 2000s. Fontano had also been hit by flying debris in a previous incident.
Fontano emphasized, "Now something has to get done because you've got a couple of people in the hospital not in good shape."
"A determination of what if any charges the driver will face will be determined at the end of the MERIT Investigation," police said in a press release.
The investigation is ongoing.
Sean has recently graduated 8th grade at St. Isaac Jogues Parish Catholic School and he was eager to begin high school at Benet Academy in the fall, according to his family. 
"We are forever grateful for the outpouring of love and support that has lifted us up during these trying days. In particular, we want to thank those from the St. Isaac Jogues School and Parish, Benet Academy and Hinsdale communities, as well as the many, many friends, family and strangers who have prayed for Sean and our family during this unimaginable time," his family said. 
There will be a visitation Monday, July 24 at Sullivan Funeral Home. Family and friends will gather Tuesday for a Funeral Mass.