2 charged after thousands of illegal cigarettes found in Skokie raid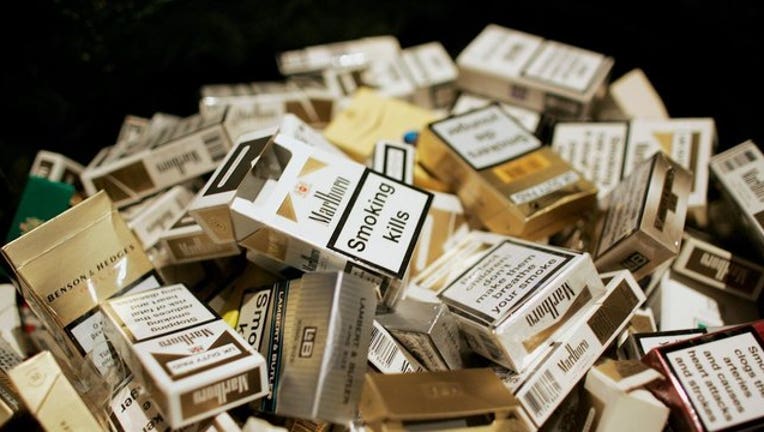 article
SKOKIE (Sun-Times Media Wire) - Two people are facing charges after more than 1,500 illegal packs of cigarettes were discovered during a recent bust at a store in north suburban Skokie.
After receiving a tip, an undercover Cook County Department of Revenue investigator purchased an unstamped pack of cigarettes Oct. 19 at Skokie Discount Tobacco, 4019 Oakton St., according to Cook County Board President Toni Preckwinkle's office. Investigators later returned to the store, where they saw a clerk closing a concealed wall compartment "in an attempt to hide the illegal cigarettes."
When the business owner arrived at the store, the hidden compartment was opened using a remote control device, and 1,258 packs of illegal cigarettes were recovered, Preckwinkle's office said. Another wireless remote that was found in the compartment activated a second compartment in the countertop near the cash register, where an additional 303 packs of unstamped cigarettes were found.
The Cook County Department of Revenue issued fines totaling more than $47,000 following what is believed to be this county's largest confiscation of illegal cigarettes this year, Preckwinkle's office said.
Two suspects were also charged "due to the exceptionally large quantity of unstamped cigarettes found on the property," Preckwinkle's office said. Their identities weren't known.
"Beneath floorboards, concealed by hidden compartments or behind false walls accessed by garage door openers, Cook County Department of Revenue investigators have seen it all when it comes to hiding illegal cigarettes," Preckwinkle said. "Through determined enforcement efforts, our Revenue Department is combatting a sly and sophisticated tobacco black market."