2 men battered elderly man at Oak Lawn gas station before fleeing, crashing into vehicle: police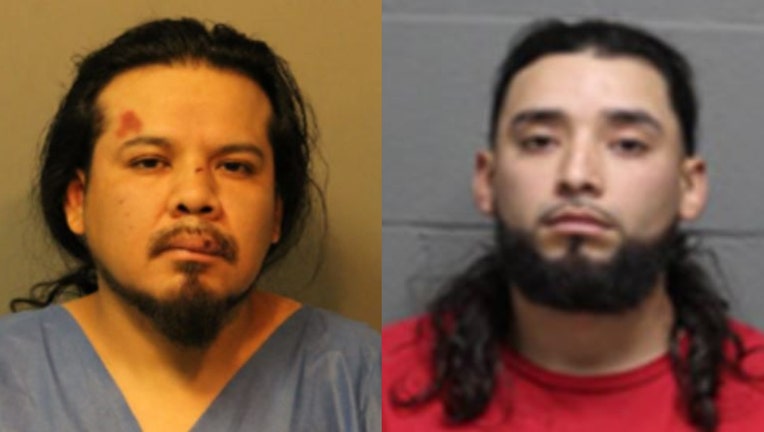 article
OAK LAWN, Ill. - Two Chicago men are accused of battering an elderly man at an Oak Lawn gas station Friday night.
Ivan Garduno, 26, and Heberto Flores, 31, were charged with multiple offenses including aggravated battery, robbery, reckless driving, driving under the influence, driving with a suspended license, possession of a controlled substance (cocaine) and 16 traffic violations including "Scott's Law."
At about 8 p.m. Friday, Oak Lawn police responded to the Citgo gas station located at 6801 W. 87th Street for a report of two people battering an elderly man.
A police sergeant, who responded to the scene, observed the alleged offenders, Garduno and Flores, enter a black Nissan Versa and flee westbound on 87th Street. 
The sergeant attempted to stop the vehicle by the shopping mall at 87th and Harlem, however, Garduno and Flores allegedly continued to flee and drive through an active crash investigation at 84th and Harlem, police said.
SUBSCRIBE TO FOX 32 ON YOUTUBE
The vehicle then proceeded into Burbank, where it eventually crashed into another vehicle at the intersection of 83rd and Nottingham.
The 74-year-old man who was battered at the gas station was transported to an area hospital, where he was treated for broken ribs and facial contusions.
Garduno and Flores as well as the occupants of the vehicle they struck were transported to an area hospital for minor injuries.
While investigating, detectives discovered that the two men battered the victim and took his cell phone and his money.
While searching the offending vehicle, officers found the victim's cell phone, US currency, open liquor and a substance that later tested positive as cocaine.
Both offenders were transported to the Leighton Criminal Courthouse Monday morning for a bond hearing.