2 mothers sue city; claim police negligence caused fatal Englewood crash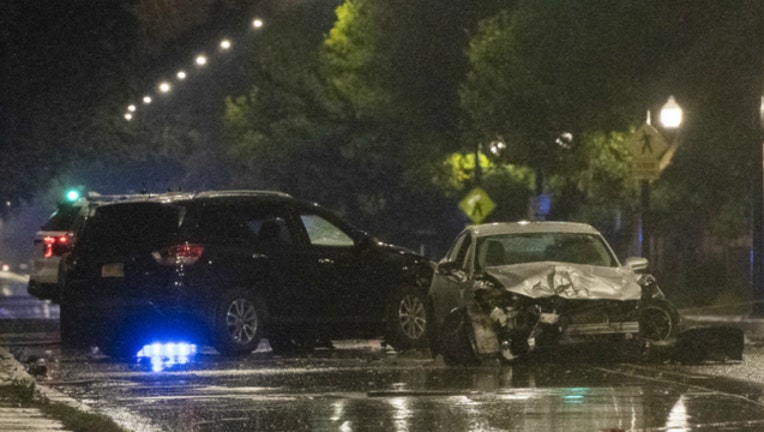 CHICAGO (Sun-Times Media Wire) - Two mothers whose children died in a crash last month are suing the city, claiming that an officer recklessly pursued a suspect who caused a fatal crash in Englewood on the South Side.
The lawsuit is the second wrongful death case filed against the city since the Oct. 1 crash that killed three people—including a 3-year-old boy.
The mothers spoke Wednesday at a press conference about their lost loved ones and the answers they hope the lawsuit will provide.
"We have a lot of unanswered questions," Sharnice McGee said of the crash that killed her 3-year-old son, Cabari Turner, and her fiancé, 25-year-old Chrishawn Tuner.
Police said that officers turned off their emergency equipment before the crash, but the lawsuit alleges it wasn't the case.
"There was a police car on the scene immediately upon the crash," the lawyer of the mothers, James Montgomery, said of the case. "That tells us there was not a discontinuance of the chase."
In the evening of Oct. 1, officers saw a car traveling east on 69th Street at a high rate of speed, Chicago police said at the time. After initially turning on their emergency lights and following the erratic driver, the officers disengaged and halted their pursuit, police said.
The suspect, Christopher Carter, continued to speed away, nearly reaching 80 mph as he approached a red light at Loomis and 69th streets, Cook County prosecutors said.
Instead of stopping, Carter allegedly drove into the intersection and slammed into the driver's side door of a 2009 Ford Fusion with the Turners and 24-year-old Antonio Cowan inside, according to prosecutors.
"I lost a big part of me," Cynthia Turner said of her son, Chrishawn Turner.
The other passenger in the vehicle, a 2-year-old girl, survived the crash, Tuner said. "She doesn't have a bruise, she doesn't have a scratch—it's like she's an angel here with us."
"We are challenging, today, COPA, if they are investigating, to deliver some of these answers," Montgomery said of the Civilian Office of Police Accountability.
The mother of the third person who died in the crash filed a wrongful death suit against the city last month.