2-week-old Bornean orangutan makes debut at Brookfield Zoo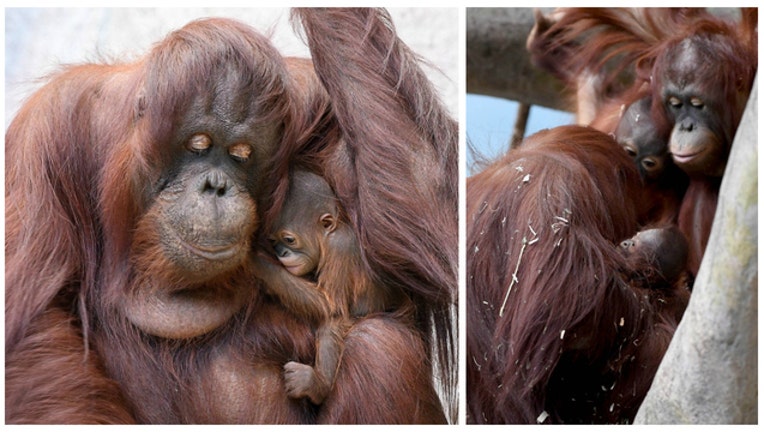 (SUN TIMES MEDIA WIRE) - A baby Bornean orangutan born just before Christmas made her debut Tuesday at the Brookfield Zoo.
The two-week-old female orangutan, who has not yet been named, can be seen with her mother Sophia at the Tropic World: Asia habitat, according to a release from the west suburban zoo. She has been bonding behind the scenes with her mother and being monitored by animal care staff since her birth Dec. 20.
She is Sophia's sixth offspring and the fourth of Ben, her sire, according to the release. Zoo visitors can see her nursing or, even more likely, sleeping for long periods while clinging to her mother.
The infant can also be seen sometimes interacting with her older sister Kekasih, 8, and adopted brother Kecil, 3, who is very curious about the newborn. Though Sophia is protective of her newborn, she will allow the two an occasional touch, according to the release.
The Bornean orangutan population has declined by more than 60 percent between 1950 and 2010, and a further 22 percent decrease is projected through 2025, according to the International Union for Conservation of Nature.
"The birth is significant to the zoo population, but hopefully it will also help raise awareness about the threats facing orangutans in the wild," said Bill Zeigler, the Chicago Zoological Society's senior vice president of animal programs.