4 injured in 3-vehicle crash just days after deadly crash on same Chicago street
CHICAGO - Four people were injured Friday afternoon in a crash on Chicago's South Side.
Around 3:51 p.m., police say a 75-year-old man in an SUV was traveling westbound on 103rd Street when he struck a 16-year-old in an SUV who was traveling northbound on Cottage Grove Avenue and was attempting to turn left onto 103rd.
"I just let the sound carry itself and it rumbled like it was thunder," said Rick Brooks, who lives nearby.
The sound was so loud, neighbors say it stopped them in their tracks.
"I was doing some fence repair on the back gate and all of the sudden I heard a big boom, and I thought it was a train," said Brooks.
SUBSCRIBE TO FOX 32 CHICAGO ON YOUTUBE
Brooks said he soon discovered where the sound was coming from.
"I looked over and it was gathering right here, right here at the intersection, it was tremendous, the sound was like something out of a movie," said Brooks.
During the wreck, a 2016 Ford Escape was also struck. A 22-year-old woman and 24-year-old woman from that vehicle were transported to the University of Chicago Hospital.
The 22-year-old woman is in good condition. Meanwhile, the 24-year-old woman is in critical condition, police said.
The 75-year-old driver sustained minor injuries and was taken to Christ Hospital in fair condition.
The 16-year-old girl also sustained minor injuries and was transported to the University of Chicago Hospital in fair condition, police said.
"I'm heartbroken that this happened in my neighborhood," said Brooks.
During Friday's accident, two of the vehicles involved were left mangled and a stop light pole was ripped from its foundation.
The crash comes two days after an eight-car crash that also took place on Cottage Grove Avenue – in that case, about two miles north on 87th Street.
Around 5 p.m. Wednesday, police said a stolen Dodge Charger was traveling the wrong way – northbound in the southbound lanes – at a high rate of speed and entered the intersection, striking seven vehicles.
Upon impact, the stolen vehicle burst into flames and both occupants were pronounced dead at the scene.
Seven minors and nine adults in other vehicles were injured and transported to area hospitals for treatment.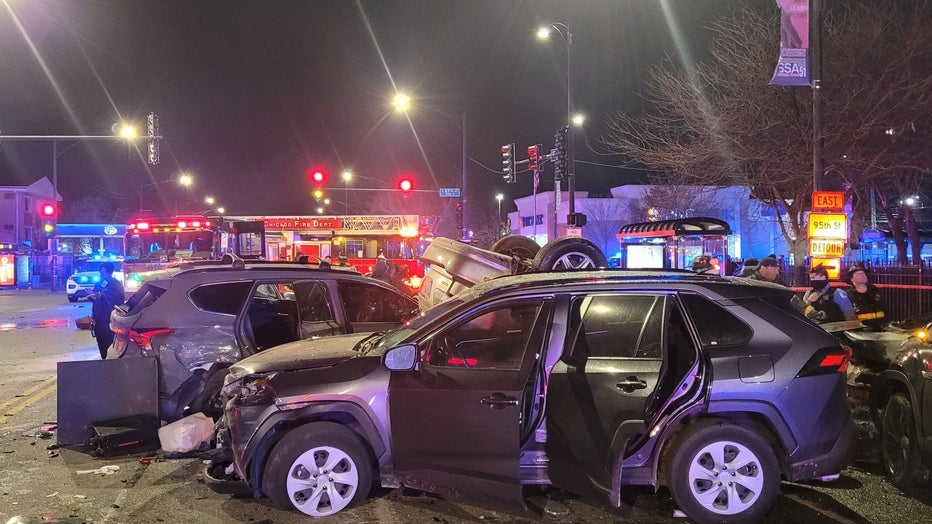 "Slowing down will save lives, speed kills," said Supt. David Brown with the Chicago Police Department.
In Friday's crash, no citations were given to the 75-year-old man.
While the crash at 103rd and Cottage Grove did not involve any CTA vehicles, three bus lines were re-routed temporarily while the accident was investigated. To check for route changes, CTA customers can visit this website.