AG Madigan to appeal denial of request to halt worker pay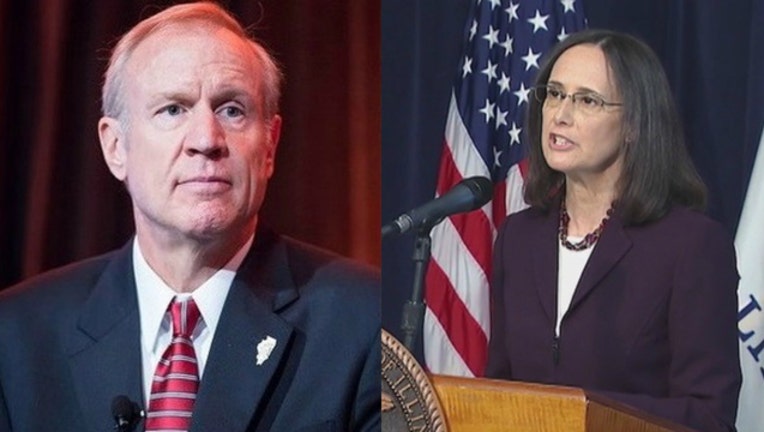 article
BELLEVILLE, Ill. (AP) - A judge on Thursday denied a request by the Illinois attorney general to stop paying state workers unless lawmakers resolve an ongoing budget impasse.
Attorney General Lisa Madigan said she will appeal the judge's ruling, noting the state's constitution requires an enacted appropriation for state spending.
"Under the current injunction, the state has spent over $3 billion in taxpayer money without any transparency or legislative debate as required by law." Madigan said in a statement. "The governor is using this injunction to avoid following the Constitution and enacting a budget, irreparably harming the people of Illinois."
St. Clair County Circuit Judge Robert LeChien refused to reverse a previous court order requiring Illinois to pay state employees in the absence of a spending plan. Madigan argued stopping pay would hasten a budget agreement.
Republican Gov. Bruce Rauner has criticized Madigan's legal move, suggesting the daughter of House Speaker Michael Madigan wanted to create a "crisis" that would shut down the government.
"We're pleased our hard working state employees, who show up to work every day on behalf of the people of Illinois, will continue to be paid," Rauner said in a statement, adding he hopes Madigan drops her efforts and allow negotiations in the Senate on a balanced budget to succeed.
Rauner and Democrats who control the Legislature have been fighting for years over how to balance the budget. Rauner repeated Wednesday that he will support a tax increase to help close a multibillion-dollar budget deficit, but only if it is accompanied by measures he wants to help businesses, such as reduced workers' compensation costs.
Democrats oppose Rauner's agenda, with Speaker Madigan calling it "extreme" and harmful to the middle class.
Without a budget in place, social service agencies, higher education and other programs have suffered. Other spending has continued, however, because of court orders or state law. That has included employee pay.
Both Democrats and Republicans in the Illinois House say worker paychecks should continue and have introduced separate bills seeking to avert a government shutdown if Madigan's motion succeeds.
Rauner said in a video message to state employees last week that he would veto the Democrat-backed plan, which would appropriate money for state agencies to continue paying employees through the end of the fiscal year on June 30.
The Republican plan wouldn't expire at the end of the fiscal year, but it puts the governor's office and state agencies in charge of deciding how much money employees receive - authority that Democrats are not willing to give.
Rauner and the state's largest public-employee union have been at odds over a new contract, with the governor seeking millions in savings.
The American Federation of State, County and Municipal Employees contends the General Assembly has appropriated funds for the state employee payroll by agreeing to abide by court orders.
"Through all state government's chaos of the past two years, the people of Illinois have been able to rely on state workers to be there, providing important public services," AFSCME Council 31 Executive Director Roberta Lynch said. "This decision ensures that that commitment can continue."
AFSCME Council 31 is holding a strike authorization vote to determine if members are willing to walk out. That vote, which started last month, continues through Sunday.