Air quality alerts issued as Canadian wildfire smoke smothers parts of northern US
Smoke from more than 200 wildfires burning in Canada continues to blow into portions of the northern and western U.S., but forecasters are hopeful that rain this week could give firefighters the upper hand in extinguishing fires that have burned millions of acres and forced tens of thousands of people from their homes. 
On Friday, upper-level winds blew in thick smoke from the wildfires burning in Alberta and British Columbia, knocking down air quality levels to "unhealthy" in Denver, leaving the Mile High City with what was reportedly the second-worst air quality in the world, according to IQAir.com.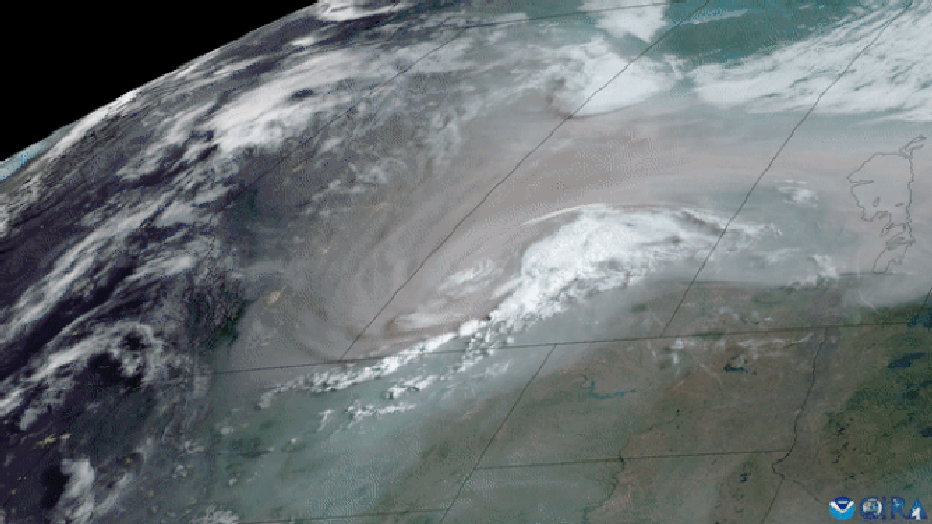 Smoke from the Canadian wildfires has been wrapped in a weak area of low pressure diving south into the northern U.S. (NOAA)
The wind has also blown the thick smoke across the northern Plains, Great Lakes, Ohio Valley and Northeast.
"If you've noticed, a lot of our sunrises and sunsets have been looking very hazy or red," FOX Weather meteorologist Kiyana Lewis said. "It's because of the smoke in the air."
Air quality alerts in effect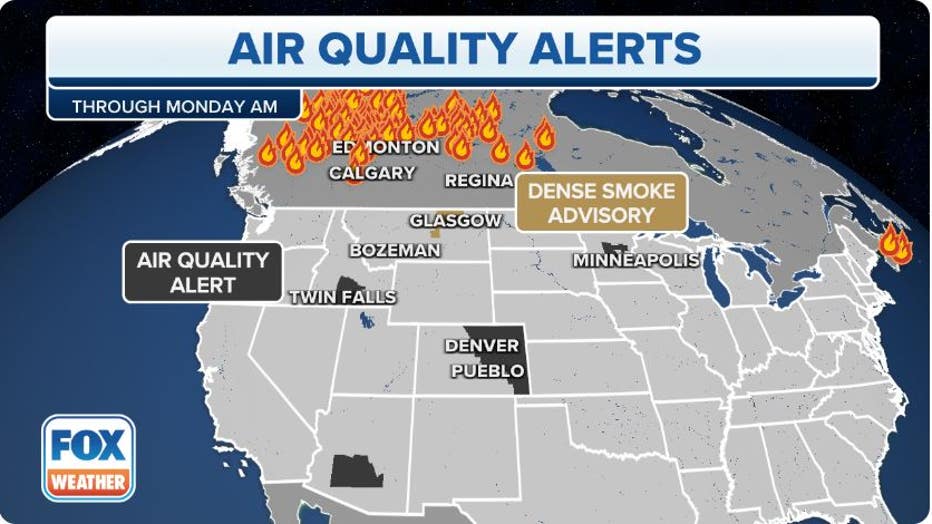 Current air quality alerts in effect. (FOX Weather)
The smoky conditions here in the U.S. are leading to unhealthy air quality levels, posing a danger to those with lung conditions such as asthma and emphysema. Infants, young children, people who work outside and older adults could also be at risk.
The Montana Department of Environmental Quality and the National Weather Service issued air quality alerts for the entire state, which will remain in effect through at least Sunday morning.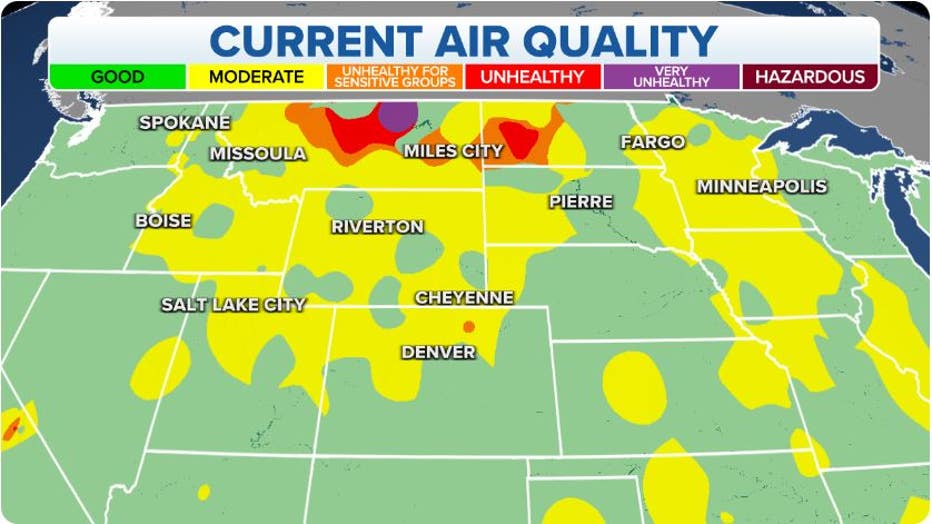 Current air quality levels across the northern and western U.S. (FOX Weather)
In addition, Dense Smoke Advisories were issued in Phillips, Petroleum and Valley counties in Montana that will remain in effect until at least 3 p.m. MDT.
According to IQAir.com, Malta, Montana, had an Air Quality Index (AQI) of 215 or "very unhealthy."
The Colorado Department of Public Health and Environment and the National Weather Service have also issued air quality alerts because of wildfire smoke across eastern Colorado, including Denver and Pueblo.
Wildfire smoke tracker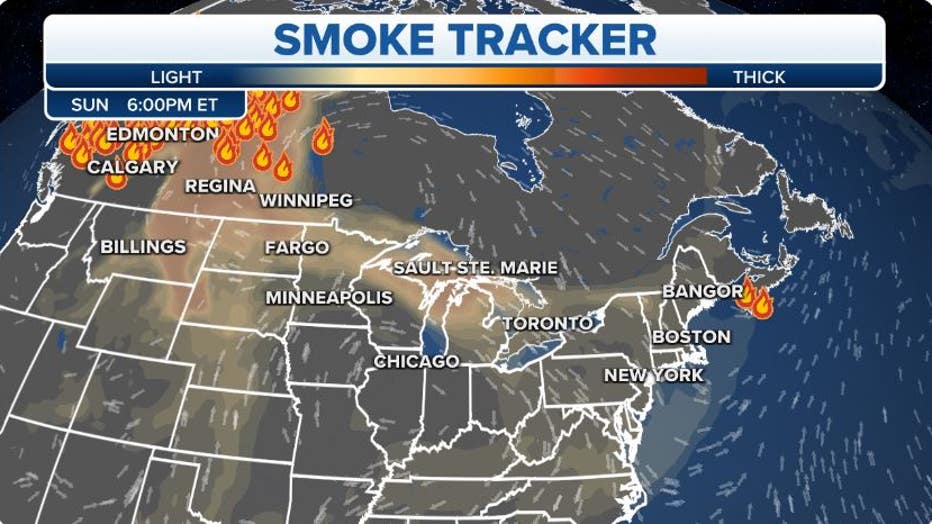 The wildfire smoke tracker on Sunday, May 21, 2023. (FOX Weather)
Strong winds are expected to carry wildfire smoke across the western U.S. into the Great Lakes region and portions of the Northeast on Sunday afternoon. However, the worst conditions will be across the northern tier from Montana and Colorado to the Dakotas and northern portions of Minnesota, Wisconsin and Michigan.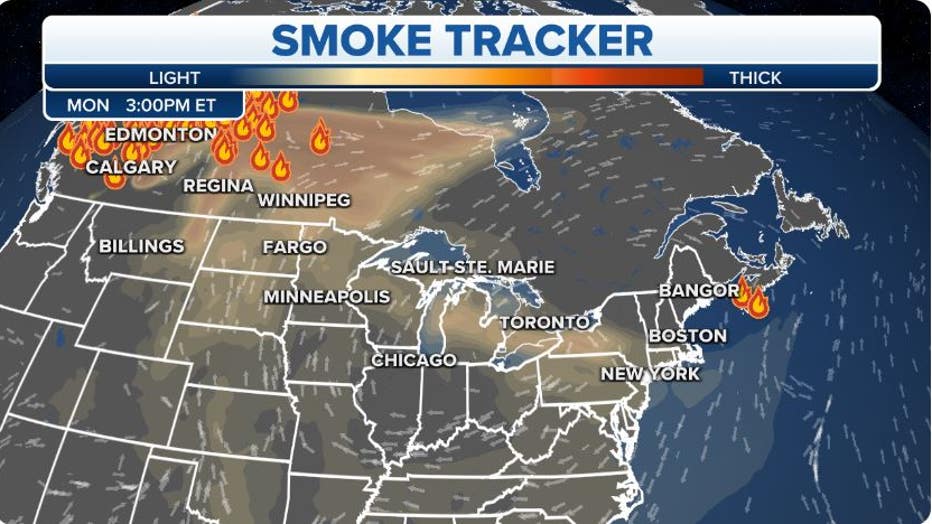 The wildfire smoke tracker on Sunday, May 21, 2023. (FOX Weather)
By Monday, the bulk of the smoke should remain in Canada. However, smoky conditions are likely to remain across the northern tier, Great Lakes and Northeast, including New York state.
Rain on the way in Canada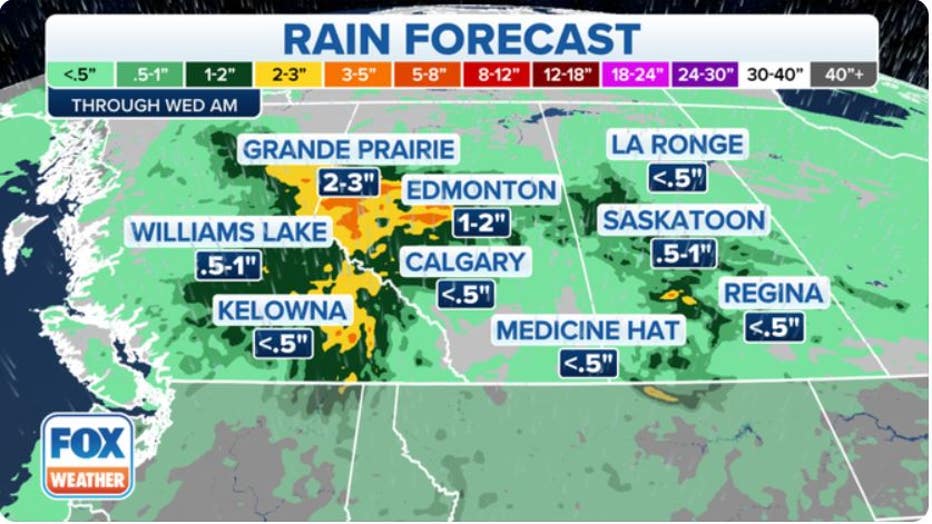 Forecast rain totals in Canada through Wednesday, May 24, 2023. (FOX Weather)
Some much-needed rain could help firefighters get the upper hand in fighting the wildfires scorching the landscape.
Showers and thunderstorms are expected across western Canada through Wednesday, with the highest rain totals expected where a bulk of the wildfires are burning.
Grande Prairie, Alberta, and surrounding areas could pick up 2 to 3 inches of rain through the middle of the week. Farther south in Edmonton, Alberta, 1 to 2 inches of rain could fall.