Chicago pays respects to fallen Officer Andrés Mauricio Vásquez Lasso: 'He inspired all who knew him'
CHICAGO - Slain Chicago Police Officer Andrés Mauricio Vásquez Lasso was remembered Thursday as a "man with a big heart" who was "humble and happy" as he worked for "justice and community."
Those words were spoken by his commander, Bryan Spreyne, who told the officer's family and friends who packed St. Rita of Cascia Church that "the heartache of your loss is shared across the city."
Vásquez Lasso, killed in the line of duty a week ago, personified the American dream, said Spreyne, commander of the 8th district where Vásquez Lasso worked. He came to the United States from Colombia at the age of 18, learned English, then entered the Chicago Police Department at 27, Spreyne said.
He wanted to become a detective and had been on the force for about five years when he was killed. He was 32.
"Like many people across the city these past few days, I've been trying to make sense of a tragedy that doesn't make sense," Spreyne said from the pulpit.
"Police officers are here to connect and protect communities and to keep our neighborhoods safe," he said. "That's what Officer Mauricio Vásquez Lasso did every day. And that's what he was doing on March 1 when his life was cut short."
Earlier, Police Supt. David Brown told the family of Vásquez Lasso that "we grieve with you and will never forget the sacrifice that Andres has made. At times like these, we are in despair. We don't believe anyone really cares about the sacrifices that are made, or knows the courage it takes to constantly run toward danger," Brown said.
"Another hero taken from us far too soon," he said. "He inspired all who knew him."
Officer Saúl Cantería, who attended the police academy with Vásquez Lasso, read a message from his phone that he sent the officer: "I keep thinking about how, 10 minutes before, that I saw you in the car. And we talked about our shades because it was finally a sunny day.
"I keep thinking how in 15 days we would have made 5 years since we started this policing journey. I keep thinking of how you always wanted to be the police. Despite everything that comes with this, you loved it," he said.
Vásquez Lasso's cousin Jhon Vásquez, also a Chicago police office, rose to tell the crowd: "Andres was one of the bravest and most selfless individuals I have ever known. He was always willing to put himself in harms way to help others, and he did so without hesitation. … He was a true hero in every sense of the word."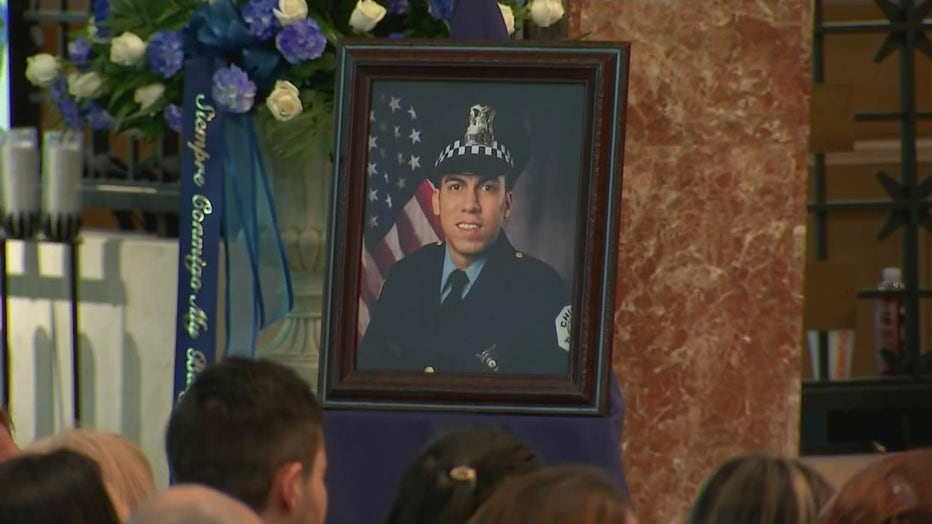 Joaquín Iglesias, a friend of Vásquez Lasso, recalled the characteristic greeting Vásquez Lasso would give when he would call. "Hellooooo," Iglesias said, cracking a smile.
Iglesias said it was honor to speak on behalf of Vásquez Lasso's many friends "or, as we knew him, el parce," a word in Colombia that means friend. "Many friends here today know there isn't a better word for Andres," he said.
"If it was a question of laughing, or dancing or something chill, the Parce was there," he said. "There's no doubt that in some future, when we go to laugh, dance or drink, he's going to be there."
The Rev. Andrés Beltran said, "We're here to say goodbye to a hero of this country."
He recalled that the officer had recently visited his grandmother in Colombia. "I want to go visit my grandmother because I don't know if it's going to be the last time," he told his family, according to Beltran.
"Everybody thought that it would be his grandmother because she's older," he said. "What we never imagined was that that final goodbye was that of Andrés."
The Rev. Dan Brandt read a letter from one of Vásquez Lasso's work partners, identified as Gina.
"It was an honor working alongside you on beat 211. … You had such a kind heart and a gentle soul. We've got it from here, brother in blue. Until next time," said Brandt, director of Chicago Police Chaplins Ministry.
As the service let out, law enforcement officials lined up outside St. Rita and stood at attention, saluting as Vásquez Lasso's casket was carried to a hearse. Bagpipers played "Amazing Grace."
A gun salute was followed by silence, with only the sound of helicopters in the gray sky disrupting the stillness.
The funeral was at the same church where services were held for Chicago Officer Ella French after she was shot and killed in August of 2021. She was the last Chicago police officer to be killed in the line of duty before Vásquez Lasso.
Vásquez Lasso was killed in a confrontation March 1 after responding to a domestic violence call in the 5200 block of South Spaulding Avenue. Steven Montano, 18, ran from a house toward a playground adjacent to Sawyer Elementary School when authorities allege he suddenly turned and exchanged gunfire with Vásquez Lasso.
The officer was struck multiple times and was taken to Mount Sinai Hospital, where he died. Montano was arrested and remains held without bail.
After the funeral mass, there will be a procession to a crematorium in Forest Park.