Argument over woman leads to shooting in Waukegan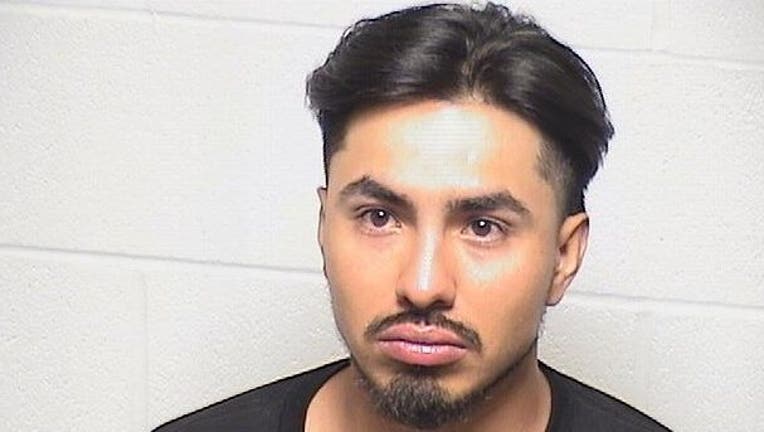 article
WAUKEGAN, Ill. - A suburban man was arrested after allegedly shooting at the ex-boyfriend of a woman he was with Monday morning in Waukegan.
Angel J. Gutierrez-Cervantes, 25, went to pick up a woman around 2:30 a.m. from her ex-boyfriend's residence in the 2600 block of North Augusta Drive, according to the Lake County Sheriff's Office.
The woman left the home and got into Gutierrez-Cervantes' vehicle. Her 28-year-old ex-boyfriend came outside and told her not to go with Gutierrez-Cervantes because she was intoxicated, officials said.
Gutierrez-Cervantes was "enraged" and got out of the car with a pistol, officials said. He fired a shot at the ex-boyfriend, returned to the car and fled.
The ex-boyfriend was not hit by the gunfire.
Gutierrez-Cervantes dropped the woman off roughly a block away from the house while the ex-boyfriend called 911 and followed the car.
SUBSCRIBE TO FOX 32 ON YOUTUBE
Lake County Sheriff's deputies pulled over Gutierrez-Cervantes and took him into custody near Alta Vista Drive and Beech Avenue. Deputies recovered a 9mm pistol from his vehicle.
Evidence technicians located a 9mm shell casing at the scene of the shooting.
Gutierrez-Cervantes was charged with aggravated discharge of a firearm and aggravated unlawful use of a weapon without a CCL, both felonies.
Gutierrez-Cervantes, of Zion, is being held in the Lake County Jail.